Mediterranean Tuna Orzo Salad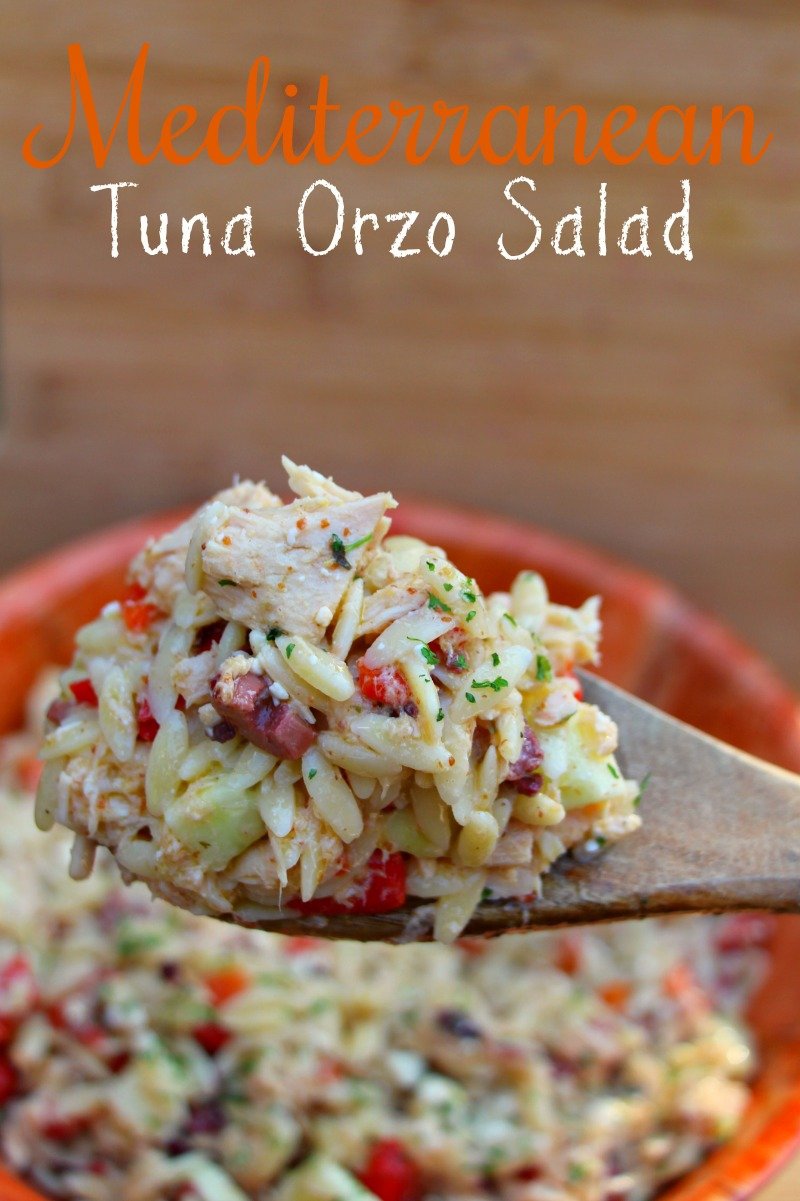 Looking for the ideal tuna to add to this recipe? Hover over the photo above to click through to the Wild Selections website and shop the featured product and more!
Thank you Wild Selections® for sponsoring this post. For a more sustainable meal, be sure to check out Wild Selections® premium seafood — it's always healthy, always Marine Stewardship Council certified, and always delicious!
I grew up on the coast where the ocean was just minutes away and seafood was sold out on the fishing docks. Since moving to the South and being more than 8 hours from the ocean, I have had to get creative when it comes to my seafood recipes. While fresh seafood may no longer be as easy for me to come by, I have become quite resourceful with new products that I have discovered at the grocery store. One of my favorite products to cook with right now is the
Wild Selections Solid White Albacore Tuna in Water
.
What I loved so much about the food we would get back home is that I knew where it came from! With Wild Selections I have that same reassurance because each of their products are traceable to the ocean where it was caught, so I always know where my food comes from and can feel good about it. They also use simple ingredients and are non-GMO Project Verified.
Wild Selections sources its wild-caught seafood only from ocean areas that have been certified sustainable to the Marine Stewardship Council (MSC) Standard (the world's leading certification program for wild-caught, sustainable seafood for the past 20 years). This assessment and certification of oceans areas by MSC ensures that fish stocks are healthy, well managed and plentiful.
Wild Selections also donates 13 cents from the sale of each can to support World Wildlife Fund's efforts to protect marine life and expand sustainable fishing practices, up to $1 million by the end of this year! This is all about paying forward so we take care of our oceans for generations to come.
With a product this great we aren't making a simple tuna sandwich… no my friends we are going to be making delicious and colorful bowl of Mediterranean Tuna Orzo Salad! This is always a crowd pleaser and a dish friends and family will be begging you to bring to the party every time!
Here is the recipe down below, there are so many great ingredients in this recipe which makes it full of flavor and spice!
Mediterranean Tuna Orzo Salad
2018-04-16 09:55:40
Dressing
4 tablespoons red wine vinegar
2 tablespoons Dijon mustard, do not use regular mustard
1 teaspoon dried oregano
1 clove garlic, minced
1/2 cup olive oil
1 lemon (2-3 tablespoons fresh lemon juice)
Salt and pepper
Salad
1 cup dry orzo pasta (measured when dry)
2 cans Wild Selections Solid White Albacore Tuna in Water, drained
4 full, canned roasted red bell peppers, drained and coarsely diced
1/2 cup kalamata olives, drained and coarsely chopped
1/2 cup flat leaf parsley, chopped (very loosely measured)
1/2 red onion, diced
1 large cucumber, chopped
3/4 cup crumbled feta cheese
Instructions
Dressing: Whisk the red wine vinegar, Dijon mustard, oregano, garlic, 1/2 teaspoon salt (or to taste), and 1/4 teaspoon pepper (or to taste) together in a small bowl. Slowly add in the olive oil into the vinegar mixture while whisking briskly. Whisk in the lemon juice. Pour into a jar and store in the fridge while prepping the rest of the salad.
Cook the orzo pasta according to package directions. Drain and rinse in cold water. Toss with 2-3 tablespoons of the dressing and pour into a large bowl.
Meanwhile, prep the rest of the ingredients: drain the tuna and add to the pasta. Coarsely dice the roasted bell peppers, coarsely chop the olives, finely chop the parsley, dice the red onion, and chop the cucumber. Add all the ingredients to the pasta.
Toss with the dressing to taste (you can use all of it or less) and top with the feta cheese. Toss and enjoy immediately
Miss Frugal Mommy https://missfrugalmommy.com/
The key ingredient in this dish is the tuna… so do not cheap out on just any kind you come across! I highly encourage you to prepare this scrumptious dish using the Wild Selections Solid White Albacore Tuna in Water, it is truly going to make a difference. I always find mine stocked on the shelves at my local Publix.
Let me know in the comment section below if you tried out this recipe and how it turned out! What other delicious recipes have you come up with when using Wild Selections Solid White Albacore Tuna?
I was selected for this opportunity as a member of CLEVER and the content and opinions expressed here are all my own.