How To Support Your Local Pet Shelters
This shop has been compensated by Collective Bias, Inc. and its advertiser. All opinions are mine alone. #FortunaForAll #CollectiveBias #cbias
Anytime I mention that I am heading to PetSmart, all three of my children rush out the door and into the car. This is one of our favorite places to visit, especially on the weekends when they host pet adoption days. This is a topic that is special to my heart because we have adopted two amazing pets from our local shelter. Something we have learned over the years is that there are so many simple ways for people to support their local pet shelters that isn't expensive or time consuming.
Our family's favorite way to help support our local pet shelters is by visiting PetSmart during their pet adoption days on the weekends. This is a day when many local pet shelters will bring their adoptable pets to the store in hopes to find their forever home. I spoke with a shelter representative once that informed us playing with the puppies is so important because it allows them to get use to people and being social. Well we did not need much convincing there and anytime we see puppies at the adoption events, my kids will get right in the play pen with the puppies. We make sure to do lots of handling and playing so that they can get use to being around people.
You may also notice there are money donation containers on the differentpet shelter tables… this is also a great way to support them if you can't adopt. Many times there will be large boxes for you to fill with pet food and toy donations… another great way to support your local pet shelter!
While the main adoption days are Saturday and Sunday… PetSmart has a permanent adoption center inside the store where you can visit with the sweet and adorable cats that need homes. If you are interested in adopting one of the cats then the best day to do this is on the weekend so you can communicate with an adoption specialists… otherwise during the wee there is just contact information on the cats cages for you to call someone about adopting the cat.
If you interested in volunteering at your local pet shelter then please reach out to them so you can find the best way to give your time to these deserving pets!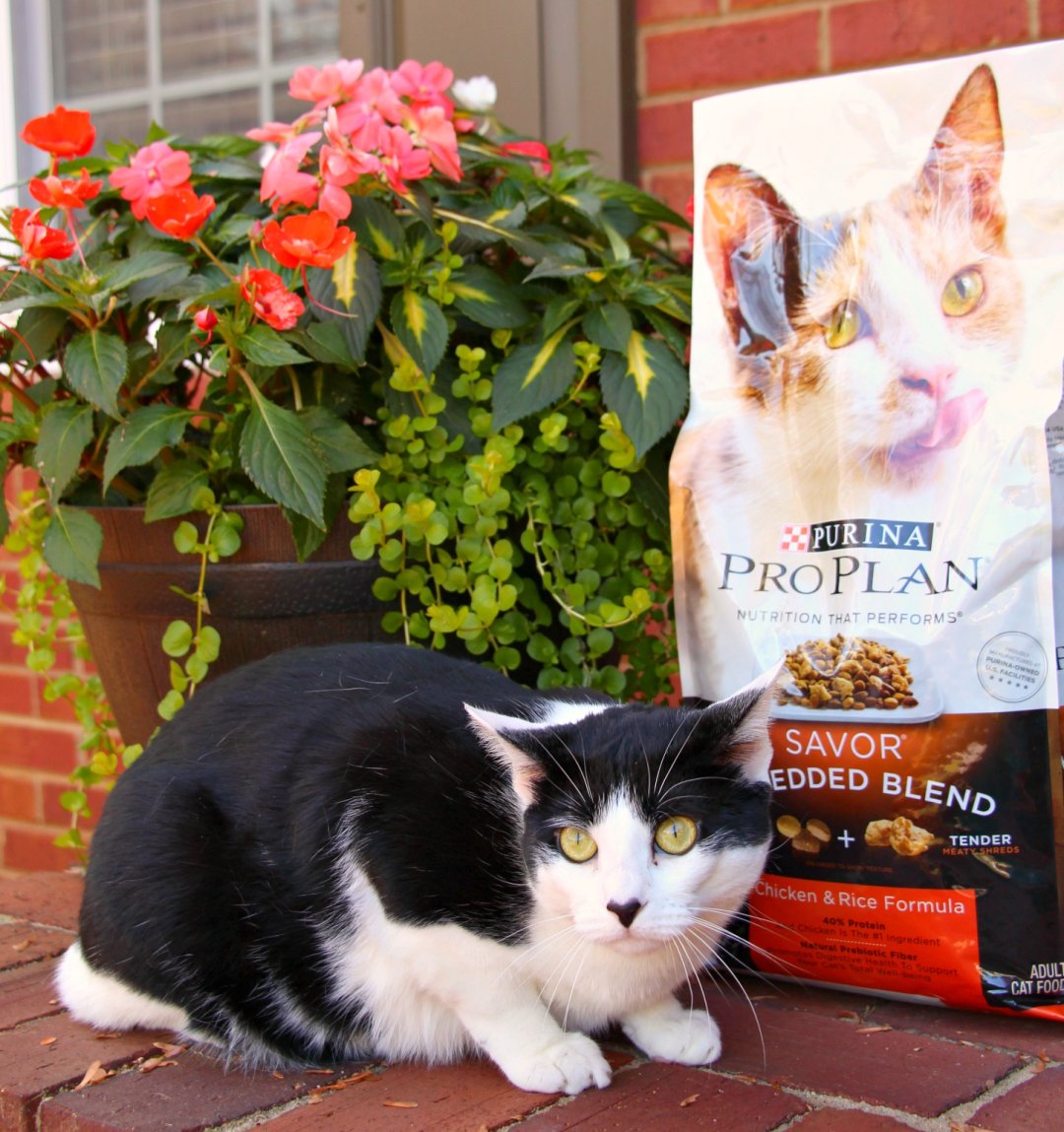 Interested in trying this cat food? Hover over the photo above to click through to PetSmart to shop the featured product and more!
If you follow me on Instagram then you already know that I am a huge advocate for pet adoption and flood my page with pictures of our dog Duke that we rescued. Very rarely do I get to share pictures of our shy and timid cat named penguin that we rescued three years ago from the same local pet shelter.
She immediately imprinted on my oldest daughter and sits like a queen on her bed all day long. They are seriously the cutest pair and my daughter is head over heels for her cat.
Another reason I do all of my pet related shopping at PetSmart is because not only do they have great prices, but they are always have amazing special offers and promotions!
Right now they are having a Purina Save a Fortune event where if you spend $20 between 4/3/18-5/18/18, you get a $5 PetSmart gift card. So how exactly to you score this great offer?
Simply purchase $20 of Purina products in a single transaction at PetSmart. Once you are home, register your contact information online and a physical $5 PetSmart gift card will be mailed to you in 8-10. You can redeem multiple gift cards for every $20 purchase (just take note that the first $5 gift card awarded requires the $20 purchase be on one receipt.) Subsequent receipts can be made on multiple receipts and of any value, when $20 in Purina products have been accumulated, you will receive another gift card!!
As if this event couldn't get any better… when you register your contact information for Purina Save a Fortune, you will receive an entry into the Grand Prize Sweepstakes. Play the Paws of Fate game at PurinaFortunes.com to instantly win prizes such as PetSmart gift cards, as well as Save a Fortune tarot cards! Prizes are as followed:

2 Grand Prizes:
1 Dreams of Fortune Cat Bed – AVR: $2,145
1 Dreams of Fortune Dog Bed – AVR: $2,145
Instant Win Game Prizes
Purina Branded Tarot Cards (50 total) – ARV: $25/ea
$50 PetSmart Gift Card (15 total) – ARV: $50.00/ea
$25 PetSmart Gift Card (15 total) – ARV: $25.00/ea
$10 PetSmart Gift Card (25 total) – ARV: $10.00/ea
(No purchase necessary to win)
Also make sure to stop by the Purina Social hub where you can explore more exciting content and access the Rebate/Instant Win site.
Purina products are very easy to find at PetSmart and conveniently labeled in each aisle they are located. I have included some store photos down below to make your search one step easier!