Candle Shop: Soy Serenity Candle Review
A special thanks to Candleshop.com for providing me with their products for free to review on my blog!

Product Description (direct from the website)
Scented Medium Jar Candle – Every medium jar candle is skillfully handcrafted by our master chandler and her staff for maximum scent throw by using the finest fragrance with essential oils and the best 100% Vegetable Soy Based Wax. The work of true perfection and the beauty of each Soy Serenity Brand medium jar candle speaks for itself. From an amazing burn time of 50-70 hours, to the earth friendly vegetable ingredients the character of every Soy Serenity Jar Candle stands for "Handmade Premium Quality".

Our "ECO-PURE" Soy Serenity Brand Candles last 2 times longer burntime, stronger scent throw and are "non toxic" "dye free" compared to other brands that use "paraffin-petroleum" waxes.

My Review
I am a candle addict and almost always have a candle burning in my home, so I was more than thrilled to be reviewing one! I have tried a vast variety of candles, but have yet to discover a soy one. I was happy to learn that these soy candles are eco friendly and have a much longer burn time than your average candle. I typically burn my candles out very fast because I use them so frequently, so having a longer burn time was a major plus, in my opinion! Another fact you need to know about me is that I was cursed with a strong sense of smell and pick up on every little scent. If one little thing smells unpleasant (which happens often when you have two children) I will race around my house to try and find it, while spraying febreeze into the air! This coincides with my reasoning for constantly burning candles in my home and I am always trying to find ones with stronger scents. My cherry blossom scented soy candle smells absolutely amazing and I could smell it the second I took the lid off (with it placed on the table, at a distance.) I then put my soy candle to the test (burning it for two hours) and was very impressed with the aroma that it filled my house with! I was also pleasantly surprised to see that it in fact, held up to its standard of having a longer burn life. I had only made a minor dent in the candle after two hours of burning it! Lastly, for candles of such great quality, their prices are jaw dropping! If you have ever shopped around for candles, then you know that the nicer ones are not inexpensive. Candle Shop has high quality candles at unbeatable prices, I would without hesitation recommend them to my readers!
My Lovely Cherry Blossom Candle In Action!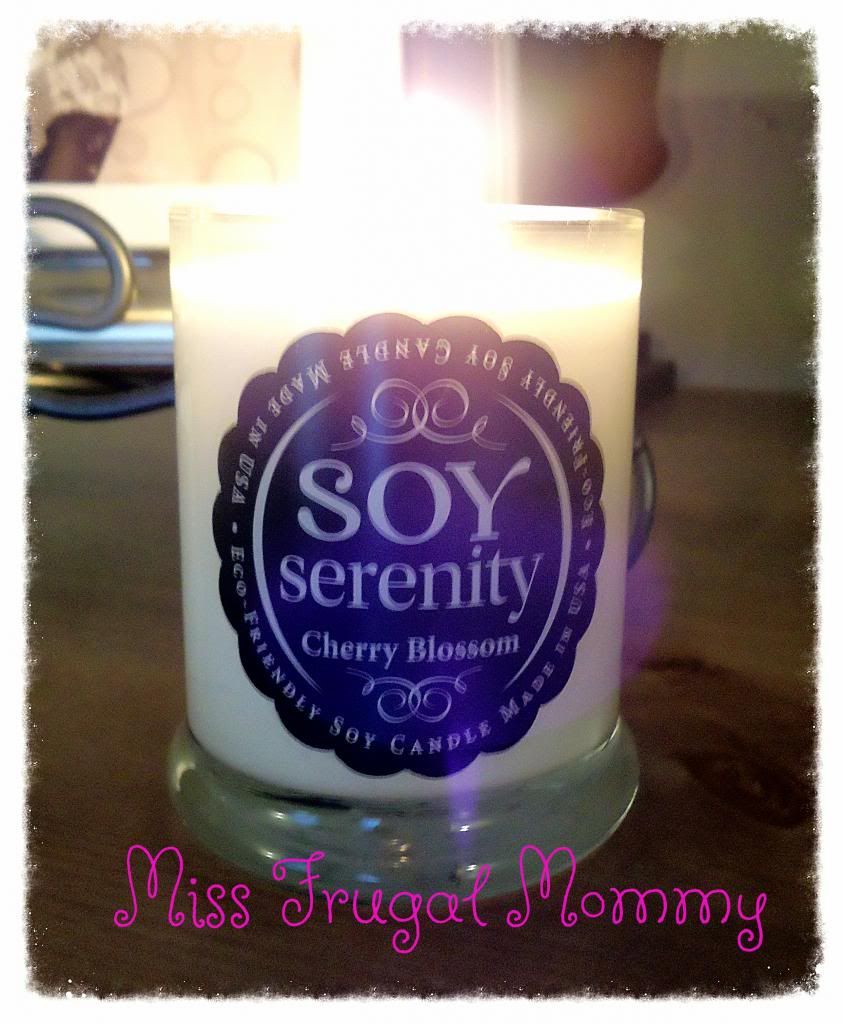 Visit Candle Shop today and see all of the great candles they have to offer at prices you can't beat!
You can also follow them on their facebook pages:
Soy Serenity and Serenity Candle Company
and twitter!
Disclosure of Material Connection: I received one or more of the products or services mentioned above for free in hope that I would mention it on my blog. Regardless, I only recommend products or services I use personally and believe will be good for my readers. I am disclosing this in accordance with the Federal Trade Commission's 16 CFR, Part 255: "Guides Concerning the Use of Endorsements and Testimonials in Advertising."