BabySpa USA Offers Organic & Earth Friendly Products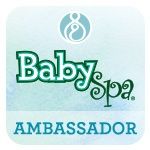 I am a proud BabySpa USA ambassador! I receive free products to facilitate my reviews. All thoughts and opinions expressed in my review are honest and 100% my own.
About BabySpa USA
We are a natural bath and body care collection for newborns through preschoolers made with special ethnobotanical blends that provide lasting hydration, soothing effects and sweet, comforting sensations.
About the Bubble Bath Milk
"Stage Two Bubble Bath Milk is a pampering blend infused with a refreshing citrus scent and enriched with nourishing Evening Primrose, Olive and Sweet Almond Oils for a calming bath experience. Our unique combination of ECOCERT® certified Nyamplung Oil and Kizis™, a botanical extract used by ancient Native Americans, provides soothing sensations while leaving skin moisturized and soft to the touch. Natural antioxidants from Pomegranate help to support healthy skin, while Lavender and Ylang Ylang calm and comfort the senses."
About the 3 in 1 Tearless Shampoo,
Body Wash & Moisturizer
"Our Stage Two Tearless Shampoo, Body Wash & Moisturizer is a unique all-in-one formula created to gently cleanse and refresh your toddler's hair and skin before or after a day full of outdoor activities. Exclusive to our blend, ECOCERT® certified Nyamplung Oil moisturizes while acting as a natural SPF booster to help preserve skin's healthy balance. Invigorating Rosemary softens the hair while Organic Aloe, Chamomile, and Calendula soothe the scalp. Our 3-in-1 formula has an uplifting citrus scent and is rich in botanical emollients such as Shea Butter and Sweet Almond Oil to provide your toddler head to toe nourishment and softness."
About the Organic Ultra-Soft Baby Wipes
"Ultra-Soft Baby Wipes are made with 100% natural ingredients and an organic blend that provides gentle and soothing care to the most delicate skin. Infused with organic Aloe, Calendula and Chamomile, each ultra-soft baby wipe also features a touch of Vitamin E for natural conditioning and a refreshing feel. Our eco-friendly packaging is based on natural chalk and our fabric is made of completely biodegradable and chlorine-free fibers that are perfect for baby's tender skin and for the environment."
My Review
In honor of a very important day that we celebrate every April, I would like to introduce to you some earth friendly products from BabySpa USA. Earth Day is a wonderful opportunity to reevaluate how we help the earth in out every day routines. It's a time to recognize what we can do to improve and what we can teach others to help the earth. The Organic Ultra-Soft Baby Wipes are the perfectly example of something that our family could use to be more aware of the trash we put back out into the earth. Switching to these great brand of wipes (as well as the packaging) are all natural and biodegradability, meaning I will no longer be filling landfills with the endless amount of wipes we use in our home. These wipes are also super soft and strong at the same time, ensuring your little one gets a gentle clean without the worry of them breaking apart on you.
We are no strangers to bath time, as the weather is warmer and my children are spending much more time in the yard. This also means they are getting a bath just about every single night and the risk of drying out their skin increases. That is why I am so glad to have discovered that BabySpa USA has a 3 in 1 Tearless Shampoo,Body Wash & Moisturizer. The gentle and all natural ingredients are kind to my little one's skin and do a fantastic job keeping that soft baby smooth skin. My three year old loves to play in the bath and simply does not have time to be cleaned. The fact that this is a 3-in-1 bath product is spectacular to me because it eliminates how much time I have to spend on cleaning (more like wrestling) my son to get a thorough clean. And on those nights where I can't get anywhere close to him to allow me to wash him, the Bubble Bath Milk is a life saver. Not only does it have a great scent, but it does all the cleaning for me. Another amazing product from the BabySpa stage 2 product line that we are completely in love with! So what are you waiting for? Discover these wonderful earth friendly products today and do your part in helping the earth,
Connect With BabySpa USA