50 Cans Of Gray Away $100 Gift Card Giveaway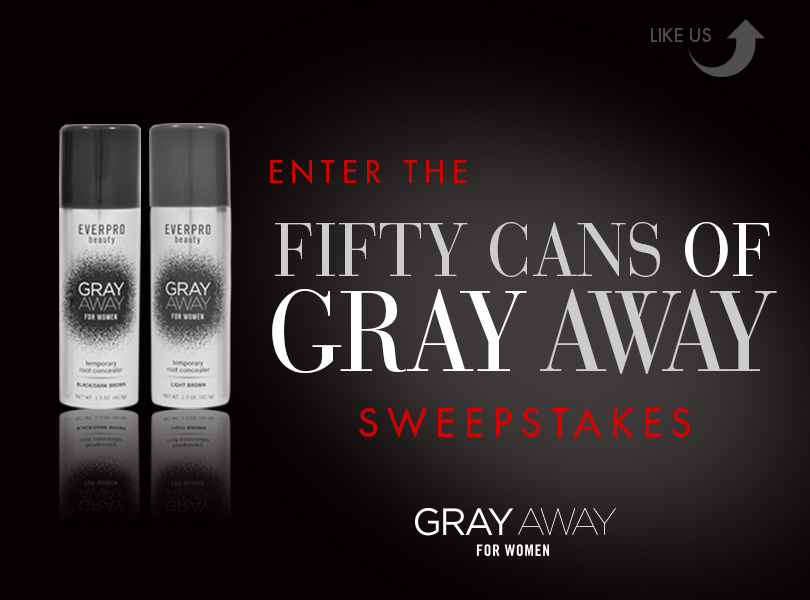 Get Your Sexy Back This Valentines! It's a simple task and so easy. Don't have time for that hair appointment, no problem!
Let's talk about beauty maintenance for busy moms this Valentine's Day, it's not mission impossible! Who has time to make it to the salon to cover up those gray roots? With Gray Away, a girl's best kept beauty secret, women can extend the time in between salon visits to save time and money and look beautiful for your Valentine's Day sweetheart. You can have the opportunity to review Gray Away yourself, or ask your readers how they will look their best on Valentine's Day.
It's hard enough to make it to the salon every six weeks, let alone every two weeks when your gray roots start to show up again. Whether you have limited time or a limited budget we want to introduce you to the perfect root touch-up solution – Gray Away by EVERPRO Beauty. We all have our little beauty secrets, and Gray Away should be in every woman's beauty arsenal.
Did you know that 70 – 80% of women over 40 color their gray hair, but that 75% of women are not using a temporary root touch-up between colorings because they are not satisfied with what is on the market? We see that as an opportunity to share our favorite solution to a problem that affects more than 60 million women.
Gray roots start to show only 2 weeks after hair coloring, Gray Away is an easy and convenient way to spray away gray roots instantly.
It extends the life of hair color saving both time and money.
Gray Away does not contain dyes, it contains mineral derived pigments and it is safe for everyone to use, even pregnant women!
Gray Away is a great value ($12.99 for 1.5 oz.) and is available in drugstores nationwide and online.
GIVEAWAY
Open to US Continental Residents. 18 or older can enter. Giveaway ends 12pm EST. This blog is not responsible for prize fulfillment or any shipping mishaps. Winner will have 48 hours to respond to email. If no response is given, Another winner will be chosen.