TruKid: All Natural Body Care For Kids Review
A special thanks to TruKid for providing me with free products to review on my blog!
Product Description (direct from website)
TruKid Super Bubble Bath: One to two squirts of our Bubbly Body Wash in a washcloth or loofah will have you bubbling up some fun in the bath or shower! Use Bubbly Body Wash daily to get ready for play or to wash away the dirt of the day! Bubbly Body Wash offers safe, gentle and sudsy fun for all ages! Also doubles as a great bubble bath!
TruKid Sunny Days SPF 30: Going Scuba Diving or Surfing? TruKid Sunscreens are Gentle on the Earth and are safe for our oceans. Highly Rated on EWG for Safety. This new formula does NOT contain Vit. A and is Non-Nano. We use micronized particles for our zinc.
My Review
My children love taking bubble baths and could spend hours in the bath if I would let them! So when I had the opportunity to review a bubble bath product, I knew my children would be a great help when reviewing it. My overall experience using this bubble bath product is very positive. It has an amazing scent and I love how good my children smell when they get out of the bath! We have tested out many bath products and one common problem that tends to reoccur is the amount of bubble bath soap you actually need to use before it produces a tub full of bubbles. I am happy to report that the TruKid super bubble bath only requires a few squirts before the tub is abundant with bubbles, this really allows the product to go a long ways! I am also fond of the pump that was included with the bottle. My children tend to overuse their bath products when I am not looking and can empty a bottle quite fast when there is a pump (fortunately, the TruKid bubble bath has a simple lock on it to prevent this.) And to top it off, this is an all natural product which many of my readers have come to learn… that is a huge plus in my book. I love my all natural products!
I also received TruKid Sunny Days SPF 30 sunscreen for review. Unfortunately we live in Maine and have had to wait for a sunny day to test this product out. I was ecstatic about the weather this past week and finally had the opportunity to test out the sunscreen on my two year old son. As I am standing outside with my rambunctious and fair skinned two year old, I all of a sudden realized "Hey, he needs sunscreen!" I quickly ran into the house and grabbed the TruKid sunscreen and applied it to his skin. I was very excited that it had the same amazing scent as the bubble bath soap! The sunscreen spreads very easily and his skin absorbed it just fine, not leaving behind streaks as some sunscreens do. It was also very clean feeling, unlike the usual greasy feeling that many sunscreens leave. My son has very sensitive skin and I don't like to use sunscreens that are too greasy or have a lot of added ingredient, so the TruKid sunny days is the perfect sunscreen for him!
I am completely satisfied with both of these products and highly recommend them to all my fans and their little ones!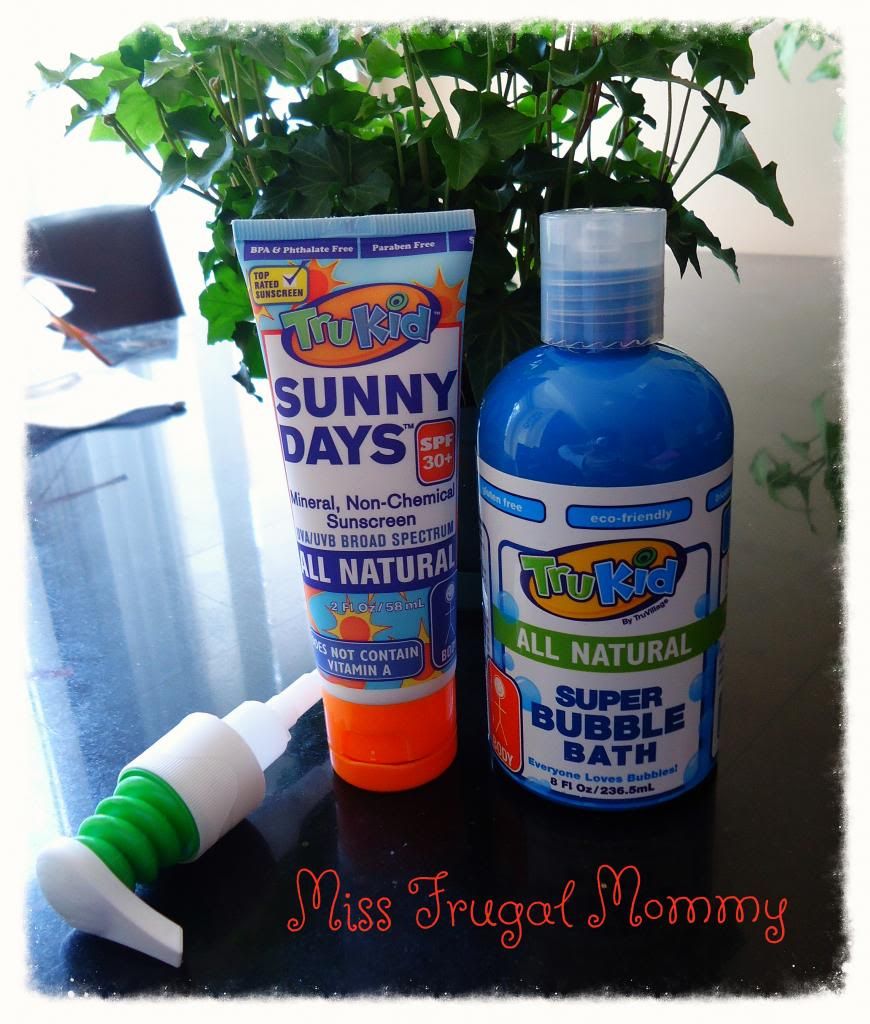 Visit the TruKid website today to view their full line of all natural body care products!
You can also follow them on Facebook, Twitter and Pinterest!
TruKid was kind enough to offer my fans a FREE Sunny Days SPF 30+ Face & Body Stick with any order of $30 or more when you order from the their website. This coupon can only be used one time per customer.
COUPON CODE: sunnymom
Disclosure of Material Connection: I received one or more of the products or services mentioned above for free in hope that I would mention it on my blog. Regardless, I only recommend products or services I use personally and believe will be good for my readers. I am disclosing this in accordance with the Federal Trade Commission's 16 CFR, Part 255: "Guides Concerning the Use of Endorsements and Testimonials in Advertising."