Talking Anya Dress-up & Pet Puppies App Review
This post is part of a sponsored campaign with Sprite Kids. All thoughts and opinions expressed are my own.

Who is Anya?
"Hello there my name is Anya, do you want to play with me ? You can take me on a play date with you and I will play with your friend's Anya. Dress me up! I repeat what you say in acute voice. I sing, dance, laugh, make funny faces and love being tickled. I enjoy cupcakes too (but not too many!). Let's pop bubbles, twirl the hula hoop, catch flowers, play ball, so much fun! Come on lets play."
So many great ways to play with me, including:
► Play with a friend feature: Get two devices with Anya on them close to each other to play multi-player games:
‣ Toss a beach ball from one device to another.
‣ Fun bubble-popping game, who can pop the most?!
‣ Hula-hoop twirling game is very interactive!
‣ A snowball fight with no cleanup required
‣ Falling flowers game, who can catch the most?
Realistic Interactions:
‣ Tap her feet and Anya does a dance
‣ Touch, "tap tap tap" or swipe over her belly to tickle her.
‣ Tap her nose and she will make a funny face
‣ Tap the maracas and Anya will play them.
‣ Touch her hair and watch her reaction.
‣ Talk to her and she will repeat what you say.
It's Playtime!
‣ Dress Anya with several cute outfits.
‣ Dress Up Anya as a Princess, Fairy, Lady Bug, Bee or Witch
‣ Pop the bubbles she blows. (You can use more than one finger to tap)
‣ Hula Hoop: Move the phone in circles when she is holding the hoop and she will twirl it.
‣ Heart: Anya will tell you, "I love You". But she will cry if you tap to break the heart
‣ Catch falling flowers. Make sure to avoid the bugs and spiders!
5 ADORABLE little Puppies to play with
‣ HUG and FEED them
‣ Make them do tricks: stand, spin, shake hands, fetch and crawl
‣ TREAT the puppies
‣ HUG them
‣ PET them
‣ They LOVE you back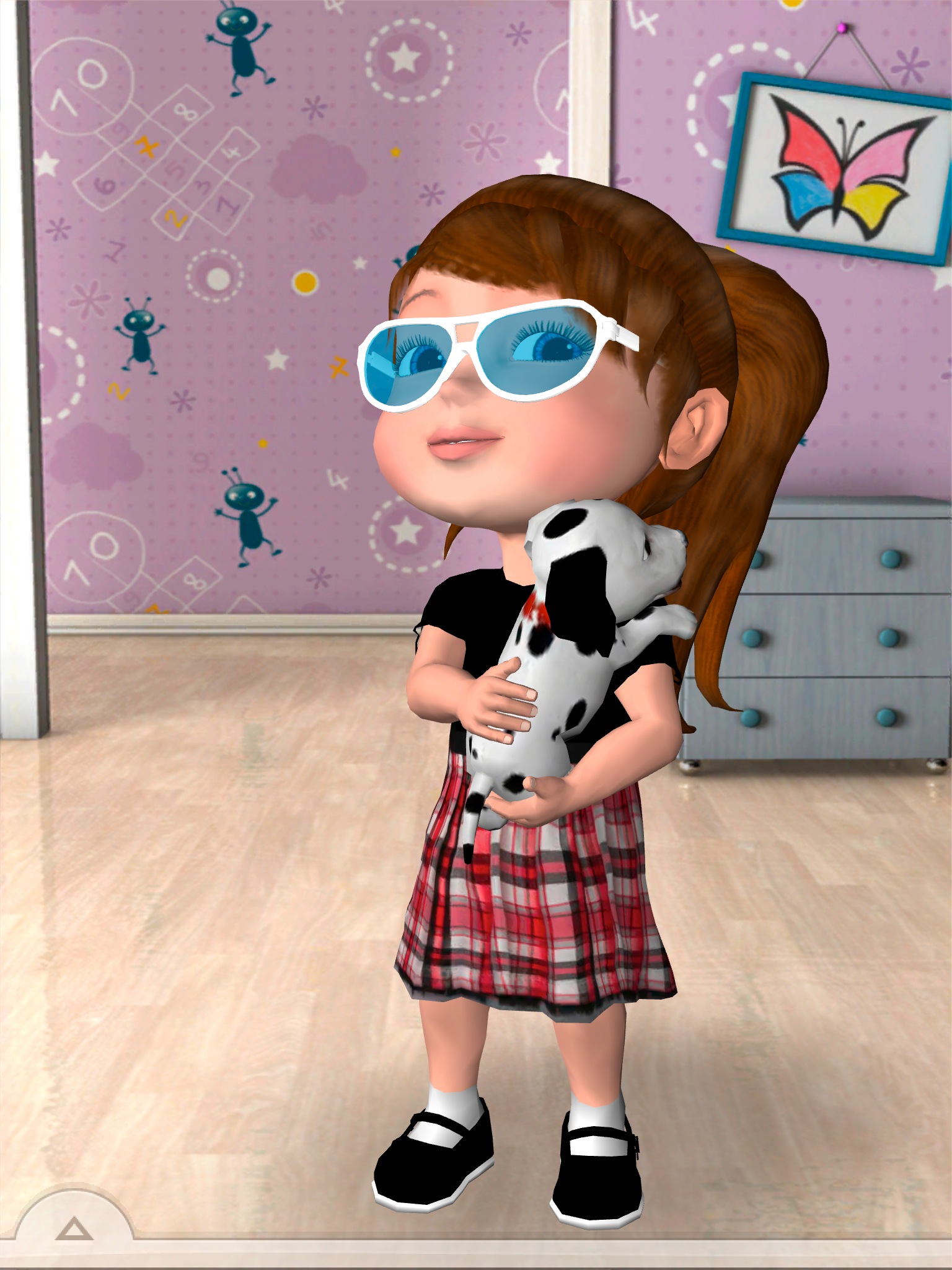 Care for her:
‣ Feed her cup cakes ( not too many )
‣ She loves to eat Strawberries, you can give her a lot of those.
Augmented Reality:
‣ Now she can be in your world!
‣ See her play, dance, sing and more in your room!
Winter Fun:
‣ A beautiful winter wonderland for her
‣ Make it snow in her world
‣ Dress her as Santa Claus or Rudolph
‣ Hear her sing Rudolph the Red Nosed Reindeer
Share with friends:
‣ Record your voice video messages in any dress and in any scene and share with friends on facebook or send via email.
Our Review
My seven daughter had been eyeballing this app for days, but after reaching her limit on apps she can download for the week, it remained on her apps for the future. You can only imagine how excited she was when I informed her that I need help in reviewing this very app! She was immediately intrigued by the Talking Anya app and found herself giggling over the cuteness of the fun she was having. The amount of stuff for her to do with this app is just amazing and I was surprised that it was available for free. Not only can she dress up Anya and her pup, but she can also engage in fun games with them. From dancing to popping bubbles, the fun never ends! Even better is that she can play this game with a friend as well! This is one superb and quality app and I highly recommend it to my readers.
Download the Talking Anya Dress-up & Pet Puppies App for FREE today!
Company Information: