Pug Run App Review
A special thanks to Tic Toc Games for providing me with a free app to review on my blog!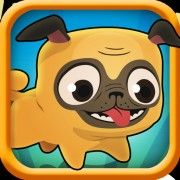 App Description (Directly From The iTunes Store)
Bring Bogart to life in the magical adventure PUG RUN!
PUG RUN takes you on a magical journey of Bogart, a pencil sketched pug, determined to come to life! After being drawn by a small boy with a larger than life imagination, Bogart awakens and begins to run toward the boy, only to find The Void slowly creeping up behind him to stop him in his tracks. See the world change from black and white to color, the closer Bogart gets to the boy.
PUG IT OUT
Pencils and coins are scattered throughout the world to help you along in your journey! Collect coins to buy Pug Treats or Pug Bites to further help Bogart on his quest to reach the boy. Pick up pencils to draw in special powers!
PUG LIFE
Traditionally drawn artwork and animation give Bogart his pugnacious personality. See him come alive with a variety of special moves, unexpected reactions, and visual surprises!
Game Features
• Arcade-style excitement: 2D side-scrolling runner
• Intuitive controls: Swipe to Jump and Slide, or tap for a burst of speed
• Customizable play: Items and Collectables help you personalize Bogart
• Universal App: Works on iPhone, iPad, and iPod Touch
My Review:
My six year old daughter probably asks me on a weekly basis if we can get a puppy, in which I always reply with "sorry, not today." When I first watched the video clip that plays at the beginning of Pug Run, I knew my daughter would adore this app! The video shows a boy, about her age, discovering an adorable pug at a pet shop and heartbroken when he is not able to bring it home. My daughter is also my little artist and this entire app is based on the drawings of the little boy. With all of the similarities, it was no surprise how much my daughter enjoyed this game!
You start off the game as the pug in a world of black and white, just a simple sketch on a pad of paper. As the pug runs further into this world and closer to the boy, the land begins to gain color and look real. You can collect pencils along the way to help the pug get to the young boy faster. One of my daughter's favorite moves that the pug does is he uses a balloon to float in the air. I can always tell when the world of black and white is starting to creep up behind the pug because my daughter will squeal in anticipation and quickly try to encourage the pug to run faster.
Pug Run is an adorably fun app that I would recommend for children that work well with fast paced games. I personally enjoyed this game, so I would also recommend this app to adults.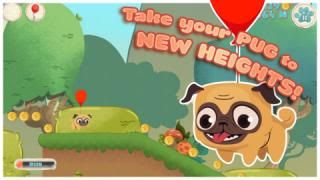 You can purchase this adorable app in the itunes store for just $0.99
You can also help support this app by liking them on Facebook!
Disclosure of Material Connection: I received one or more of the products or services mentioned above for free in hope that I would mention it on my blog. Regardless, I only recommend products or services I use personally and believe will be good for my readers. I am disclosing this in accordance with the Federal Trade Commission's 16 CFR, Part 255: "Guides Concerning the Use of Endorsements and Testimonials in Advertising.