Nuby iMonster Snack Keeper Review
A special thanks to Nuby for providing me with free products to review on my blog!

Nuby iMonster Snack Keeper
About the Product:
"The Nuby iMonster Snack Keeper cup keeps kid-sized snacks inside the container instead of the floor or car seat. The soft silicone flaps make it easy to grab snacks without spilling. Nuby feeding accessories are made to withstand the challenges of daily use and retain their bright color."
My Review:
I must say that the iMonster snack holder is officially my new favorite snack holder! We own several snack keepers, all different brands, but none of them seem to possess the ability to keep the snacks from spilling. My son has a snack holder that actually causes cheerios to go flying across the room as he pulls his hand out (I refer to this as the cheerio explosion). Being the trouble making cutie he is, he also enjoys putting his snack holders to the test by shaking them to see if he can get the cheerios to fall out, which he accomplishes EVERY TIME. I eventually just came to terms with the fact that trails of cheerios around the house and car were just something I would have to get accustomed to. Is any of this sounding familiar to you? Well friends, fret no longer, Nuby has discovered the solution! I filled my son's iMonster snack holder with cheerios this morning. After his many attempts to coat the carpets with cheerios, I have not had to pick up a single one. The flaps are just the right sturdiness; not too tough for little ones to get their hand through, but tough enough to keep snacks from overflowing as the child pulls their hand out. The iMonster also doesn't lose any snacks when it's tipped upside down. And just when you thought this product couldn't get any more amazing, it's also a toy (or at least my son thinks so!) The arms move around and can hold snacks, my son ran around with his new friend all day, eating snacks and making monster noises. The iMonster snack holder is adorable and efficient, I would consider this to be a must have item if you have a toddler!
~*Friends*~
~*The Spill Test*~
~*The Cheerio Explosion Test*~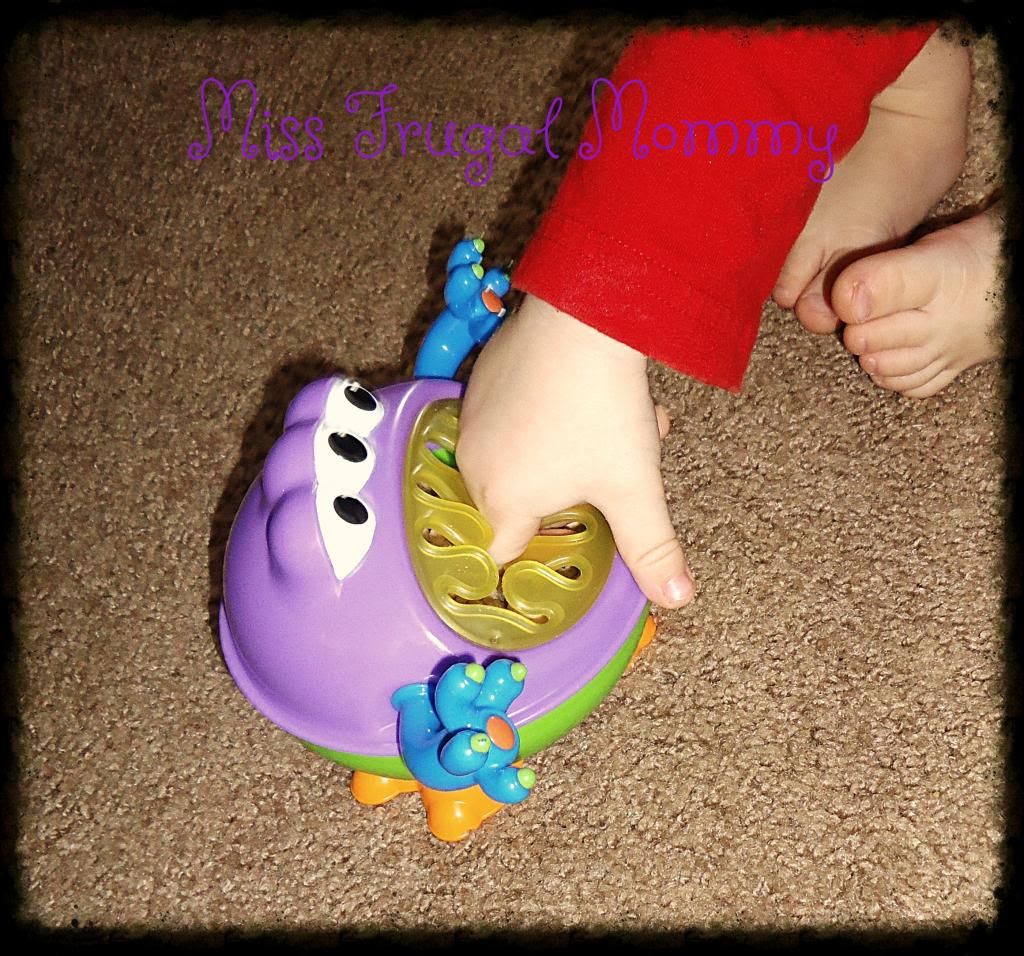 ~*My Son's Reaction To How Inexpensive The iMonster Is*~
You can purchase this amazing iMonster snack keeper at buybabydirect.com, Burlington Coat Factory, amazon.com, Buy Baby Buy, babyhaven.com, cookieskids.com, diapers.com, and idealbaby.com
Just announced! The Nuby iMonster Snack Keeper is now available at Babiesrus.com!!!
Visit the Nuby Website today and discover all their wonderful products!