FunBites Review
A special thanks to FunBites for providing me with a free product to review on my blog!
Product Description:
"Each Funbites pack includes a high performance curved blade cutter that quickly creates small bites and a matching popper top that pops out food instantly so hands are clean, food is untouched. Funbites is 100% MADE IN THE USA, BPA FREE, Mom invented, hand wash or dishwasher safe."
My Review:
My children were so excited to start making sandwiches as soon as we received our Funbites! The first thing we decided to do was to use our Funbites on a slice of cheese! This was easy peasy and we barely had to apply pressure. The pieces popped out gracefully and left our cheese looking fun and yummy, all at the same time!


We then used our Funbites on a turkey and cheese sandwhich.
Here is a step by step guide on how to use a FunBites:
Your first step would be of course to make a delicious sandwich with your child's favorite fillings.
You will then need to separate the two FunBites pieces, placing the larger piece over the sandwich. The FunBites is designed so that when you push down on your sandwich, you can also firmly rock it back and forth.
The few final steps instruct you to insert the popper top, lift the cutter up from the food, and push down the popper so the pieces pop out. This is done in a breeze and not a single piece will get stuck!
In this picture below, you can see the underneath of the sandwich. This shows how the popper top easily pops the little pieces out.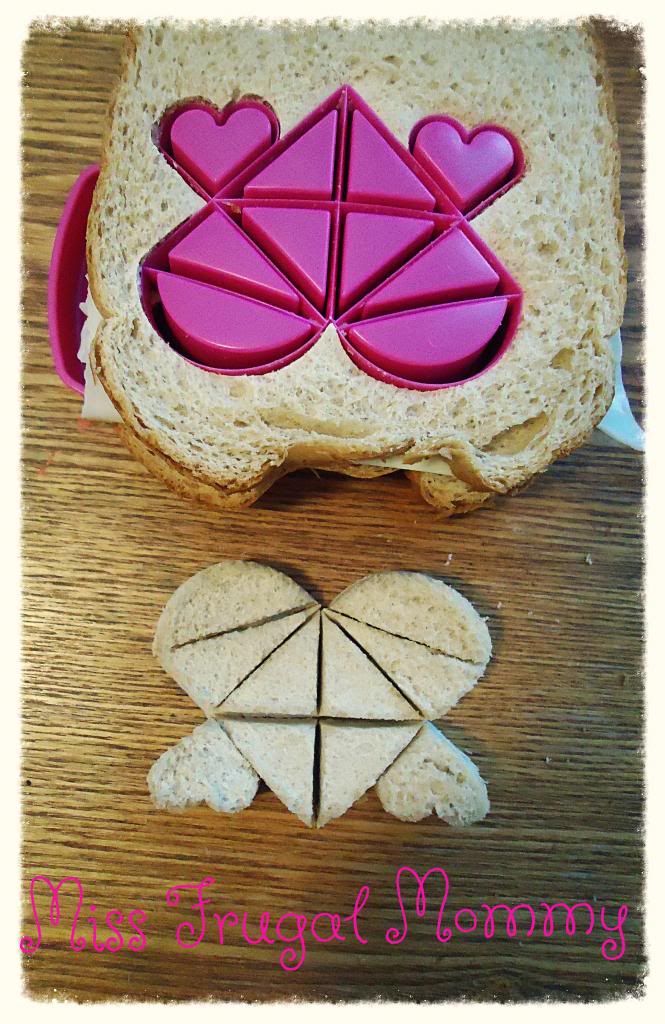 Here is a close up of the adorable heart pattern!
Now your little one is ready to eat some fun, bite sized pieces!
My children and I really enjoyed our new FunBites! You can use your FunBites on a variety of other foods, such as pancakes and melons! To purchase your own FunBites, click here and head to their website!
You can find FunBites On Facebook and Twitter!
Disclosure of Material Connection: I received one or more of the products or services mentioned above for free in hope that I would mention it on my blog. Regardless, I only recommend products or services I use personally and believe will be good for my readers. I am disclosing this in accordance with the Federal Trade Commission's 16 CFR, Part 255: "Guides Concerning the Use of Endorsements and Testimonials in Advertising.