Fun Fridge Magnets 'Mood Magnets Review
Thank you to Fun Fridge Magnets for providing me with their product for review!
Product Description
(quoted from the president of Fun Fridge Magnets)
"Expressing yourself has never been so much fun!
Well, maybe that's a bit of an exaggeration but Mood Magnets from Fun Fridge Magnets is a great way to tell your household just how you feel in a simple and fun way. Featuring the 'Pregnancy Moods', 'New Mom Moods' and the 'New Dad Moods' magnets, these fun products are placed on your fridge and allow the user to move the indicator to a wide range of feelings or moods that best describe how they're feeling at that moment.
Pregnancy and Parenthood can be a constant roller coaster of emotions, which can be difficult to express, but with 'Mood Magnets' it becomes much easier. Meant to be light and playful, the Mood Magnets also have a therapeutic element to them and for under $10, it's well worth the money.
So while your sitting on your couch with your belly bigger than a beach ball or your knee deep in dirty diapers remember one thing – a quick trip to the fridge can be just what you need to make it through your day."
My Review
These adorable and comical magnets are just perfect for displaying your emotions during two of the most emotional events of your life: pregnancy and becoming a new parent! The variety of moods to chose from are so symbolic to how life really is during those months. I remember my pregnancies so clearly, the roller coaster of emotions seemed never ending and some days you just had to laugh or you would cry. What better way to lighten things up a bit than to see your moods displayed on the 'fridge. It is also a wonderful indication for whether or not we should bother mom today as she creeps close to her due date, hehe! I absolutely love the little strip at the bottom of the 'pregnancy moods' that gives dad a chance to express how he is feeling. The 'new mother' magnet is also a great indication of how the sleep deprived mommy is surviving the day. Those first few months are undoubtedly the hardest, but full of so much love! The fun fridge magnets once again gives you a way to share your emotions through that time!
Our family plans on adding another little one to the group sometime in the future, I am looking forward to using the 'pregnancy moods' during that time. Until then, my little ones are greatly enjoying using the magnets to indicate their own moods for the day, it's quite comical if I must say!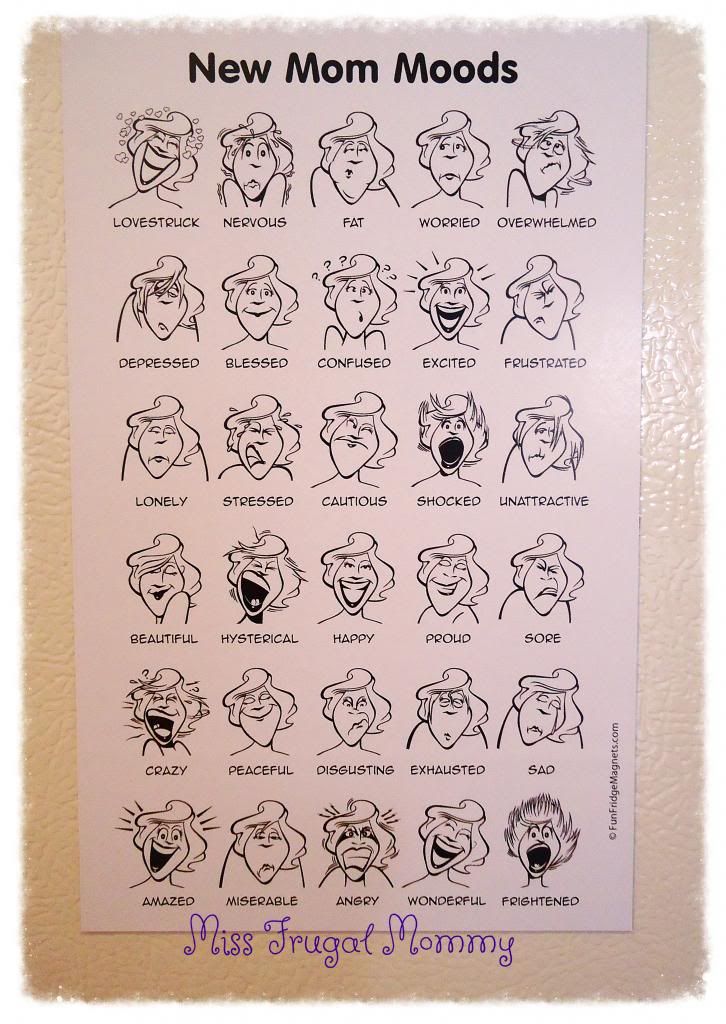 Fun Fridge magnets are currently on sale at unbeatable prices, go check it out here!
There are some new products to be launched this SPRING – 'Parent Moods' and 'Kid Moods,' so stay tuned for that exciting launch!
Disclosure: I received one or more of the products or services mentioned above for free in hope that I would mention it on my blog. Regardless, I only recommend products or services I use personally and believe will be good for my readers. I am disclosing this in accordance with the Federal Trade Commission's 16 CFR, Part 255: "Guides Concerning the Use of Endorsements and Testimonials in Advertising."