Food Should Taste Good Review
A special thanks to Food Should Taste Good for providing me with free delicious goodies to review on my blog!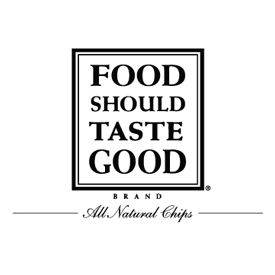 Product/Company Description
"Food Should Taste Good chips, available in all natural Tortilla Chips and
new Kettle Cooked Sweet Potato Chips, are known for their great taste and
nutritional benefits from all natural ingredients. Offering the consumer
distinct choices, the snacks are created without trans fats, cholesterol, and
artificial ingredients. They are certified gluten free, Kosher, low in sodium
and are a good source of dietary fiber. All Tortilla Chips are certified vegan
with the exception of Cheddar, White Cheddar and Chocolate. Other Tortilla
Chip varieties include Multigrain, Jalapeño, Olive, The Works! Sweet
Potato, Cantina, Lime, Blue Corn, Toasted Sesame and Kettle Corn. Kettle
Cooked Sweet Potato Chip varieties include Original, Barbeque, Salt &
Pepper and Salt & Vinegar."
My Review
These deliciously healthy chips were a very big hit with my children and I was barely able to sample them for myself. For the review, we received three bags of tortilla chips and a single bag of kettle chips. The lime tortilla chips were my personal favorite, they contained a perfect hint of lime. My children devoured the other two bags of tortilla chips, so it's safe to say that those were their favorite. I was able to taste a few and found myself very pleased with those as well. They offered a bit of flavor, yet not overpowering, but just enough to make it a great snack all on its own. As a mother, I strive to instill healthy eating habits in my children earlier on. I rarely buy chips for them to eat, so this was quite a treat for them! It was very reassuring to know that the snacks they were eating were not only nutritionist, but free of unhealthy ingredients.
The children and I really enjoyed the sweet potato kettle cooked chips that we received. I have attempted to get my children to eat sweet potatoes in the past (in numerous forms) but neither of them were delighted with it. I was expecting them to turn away from these chips, but to my surprise, they actually liked them! The sweet potato chips were not at all what I had expected and contained much more flavor than I had anticipated. I was very pleased that these chips weren't salty and greasy, like your average potato chip. I am overall very happy with all four products and would highly recommend them to all.

Food Should Taste Good Chips are sold nationally at Whole Foods Market, Starbucks, Safeway, Target and other major retailers.
Disclosure of Material Connection: I received one or more of the products or services mentioned above for free in hope that I would mention it on my blog. Regardless, I only recommend products or services I use personally and believe will be good for my readers. I am disclosing this in accordance with the Federal Trade Commission's 16 CFR, Part 255: "Guides Concerning the Use of Endorsements and Testimonials in Advertising.