Baby Bedtime Routine
This post is sponsored by Sivan Social. All comments and opinions are my own.
Your baby goes through many changes throughout their first year of life and trying to find a solid routine when it comes to a bedtime can be difficult. Something I have learned since having my fourth baby is that each child is so very different and they do not all take to bedtime routines. One sure thing that I have found similar with all of my babies is that when we add a nightly bath to their routine, getting them own to sleep goes a bit smoother that night! I am excited to share with you a routine that works for my baby girl Harper and I hope that these tips can guide you when it comes to creating a bedtime routine that suits your baby's needs.
I have been incredibly blessed with yet another water baby that could splish and splash all evening long in the bath tub. She is not afraid to get wet or cover her face, eyes, head, nose and everything else in between with bubbles. One of our most favorite bath time soaps to use is the Baby Magic Calming Baby Bath, it is the perfect soothing scent and incredibly gentle on my baby girl's skin. Baby Magic Calming baby bath is made with real lavender and chamomile, containing pure lavender and chamomile extracts. This bath soap helps soothe and relax my baby before bedtime and she always smells so delicious after a bath! I love this product because it is hypoallergenic and dermatologically tested, also enriched with milk protein to help moisturize and nourish my baby's skin and hair.
While getting your baby on a bedtime routine can be difficult at times, you have to remember that all that hard work will pay off because there are so many benefits! Here are just a few of the many benefits to putting your baby on a bedtime routine:
A bedtime routine can help your baby sleep better
A bedtime routine can help YOU relax too
Bedtime Routines aid transitional periods
A healthier child
Less night wakings
Less early rising
Less resistance at bedtime
A predictable bedtime
Healthy sleep habits for the future
I know all too well that a bath every single night is not possible, but highly recommended if your baby is having a rough patch trying to get to sleep at night or simply needs something to help settle and unwind them for the evening. Adults always talk about how they can't wait to settle down for the night with a good book and a bubble bath… well I am sure if babies could talk they would say the same thing, hehe!
If you are still trying to calm down your rambunctious baby for bedtime, I highly recommend giving a baby massage a try! If you have an older baby like mine that doesn't sit still for very long… that is OK! The skin to skin is still so important for them and a gentle message (no matter how long) is always beneficial. We love to use the Baby Magic Baby Lotion because it is made from Camellia oil and marshmallow Root and features gentle and nourishing botanical properties. This lotion also contains fatty acids and vitamins. is sulfate free, dye Free and paraben free, contains no Phthalates and no formaldehyde donors. Safe and gentle on baby's skin!
Grab Your Coupon + Enter To Win The Giveaway!
If you are ready to give these products a try, or simply need to restock and want to save money, make sure to print off the coupon. Select households will receive an additional $1 off Baby Magic coupon from Valpak, so make sure that you open your Valpak envelope to see if they received one. PLUS there is a chance to win some money, make sure to enter to win a $100 Visa e-gift card from Baby Magic.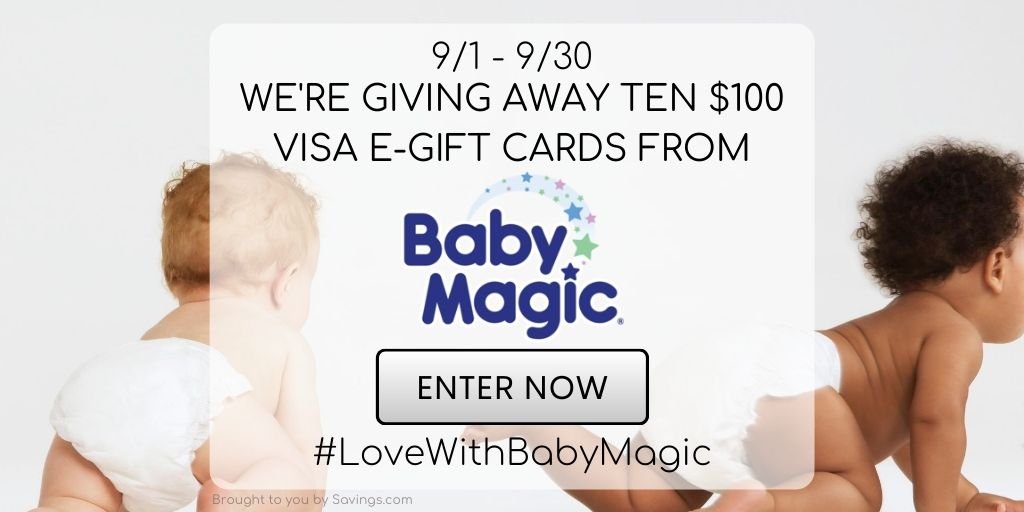 Giveaway Details
Tuesday, September 1st at 12:00 AM PT to Wednesday, September 30th at 11:59 PM PT.
Ten (10) winners will receive a $100 Visa e-gift card.
Users enter the giveaway by heading to the Grocery page on Savings.com and submitting their email address on the form on the page.
The winners will be chosen through a lottery drawing and notified on Thursday, October 1st via the email address they used to enter.
See complete Official Rules for entry instructions, full prize descriptions, restrictions and other important details.