Monday Small Business Feature- *Ntoys*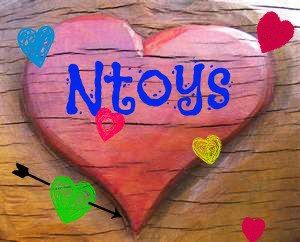 Today's small business feature is a special one to me because it is a local business from my home state, MAINE!
The owner was kind of enough to make my job one step easier and sent me an outlined description of his business (thank you Nick!)
Everything you see quoted are comments made directly from the owner!
So here it is fans! Enjoy and make sure you help support this small business by liking them on facebook and visiting their website:
"John  or "Nick" Nickerson as he's known, began his NToys business in the winter of 2011 as he was working on his basement projects (wooden toys and novelties) such as a rocking horse, brain teasers puzzles, cribbage board, toy trains. Then at a craft fair, he had one lonely toy train engine on the table and it sold right away! In fact, people kept asking, "Got any trains?" Soon an idea was born! Nick went home that night and began to think/research more about trains and what he could do that would be unique. He had found a few others like this but nowhere as cheap or as customizable as his. Shortly after," Ntoys Name Trains" was on the scene! They are wildly popular, personable and playful."
"The name train is an engine, a caboose, and then choice of a letters/colors or even a picture on a train car. People really like to see their name on stuff and I really enjoy the smiles and compliments."
Ntoys is also a strong supporter of local business and purchases all of his wood stock right here, in Maine.
"Shop local everyone! Support your friends and neighbors!"
On many occasions Ntoys has free giveaways and 1/2 price products.