Lovable Labels: Ultimate Camp Pack Review
A special thanks to Lovable Labels for providing me with their product for free to review on my blog!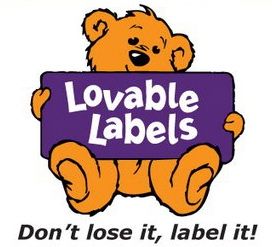 Lovable Labels Ultimate Camp Pack Review
Product Description
Keep your kids' things out of the lost and found bin with the Ultimate Camp Pack! It's fast and easy to label backpacks, water bottles, clothing, shoes, toiletries and so much more! Available in 20 designs / Colors and 45 Icons. Dishwasher and Microwave Safe, Waterproof, UV Resistant, Peel & Stick
15 Sticker Labels
40 Slimline Labels
12 Shoe Labels
72 Press n' Stick Clothing DOTS™
2 Mini-Metal Tag (two 4" silver ball chain included)
12 Square Labels
You can view a full description of the Lovable Labels Ultimate Camp Pack on their website.
My Review
I really wish I had known about this company this past winter! I can't begin to tell you how many pairs of mittens my daughter lost at school this year and I must have spent a small fortune replacing them. After digging through the lost and found, a few times, at my her school, it became very clear to me that my daughter wasn't the only one that couldn't keep track of her mittens. It seems that each time I am at her school, the lost and found is overflowing with items children have misplaced and forgotten. We do our best to teach our children to be responsible and take are of their things, but this can be a lifelong learning lesson and things are bound to get lost along the way. I was very excited when Lovable Labels contacted me to do a review and I knew we would be able to really put these labels to the test.
Lovable Labels has a great selection of designs to choose from and we were happy to see owls was just added to the list (as they happen to be my daughter's favorite.) The ordering process was very simple and easy and we received our package in no time at all. I was very impressed with the presentation of the labels, they came neatly organized in a book. This book will allow me to use the labels as needed and I don't have to worry about having a bunch of papers to keep track of. I can simply just flip through the book and pick out the labels we need at the time. I was also very impressed with the quality of the labels and could tell right away that they are durable. The most important and convenient thing about Lovable Labels is that they are dishwasher and microwave safe, waterproof, UV resistant, washer safe, dryer safe, bleach safe and AMAZING if I must say. These labels are really a lifesaver for all the mother's out there trying their best to keep track of their children's personal items and not wanting to replace labels a hundred times over! It's undoubtedly worth the investment, as apposed to replacing lost items and worn out labels!
We first decided to test out a label on my daughter's shoes, as she keeps an extra pair in her cubby at school. My daughter's school is very active, they have gym class twice a week and have something called "mileage club" where they commit to walking a short distance everyday. So needless to say, if there were a pair of shoes that could put the Loveable Labels to the test, these would be the ones! After a few weeks of having the label in her shoe, it has shown no signs of wear and it didn't start peeling away. We also chose to attach one of the mini-metal tags to my daughter's backpack. The kids at her school love attaching little key chains and such to their backpacks and many of them are not durable. My daughter has broken a few at school from them getting stuck on things and breaking off. I am happy to report that the mini-metal tag has survived the rowdiness of first grades and has yet to break off from her backpack! I know as she gets older the children will start to have more of the same style backpacks, so these mini-metal tags will be perfect for helping my daughter to keep track of her backpack!
We are completely satisfied with all of the benefits and durability the Lovable Labels provide!! I would absolutely recommend these to all of my fans that have children in school or camp!
The convenient little book that all the labels come in!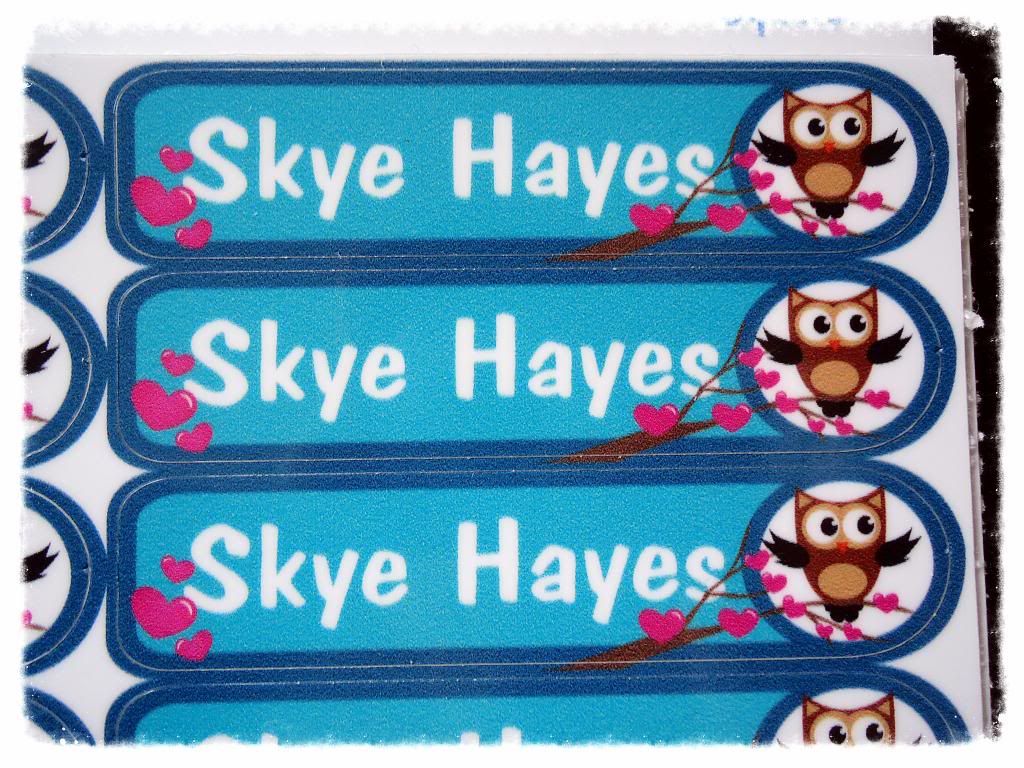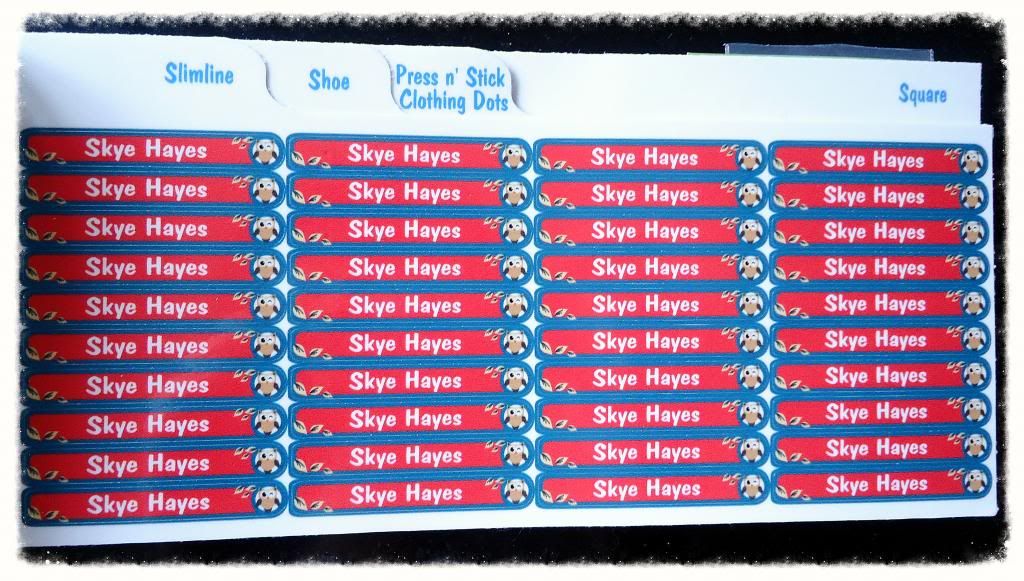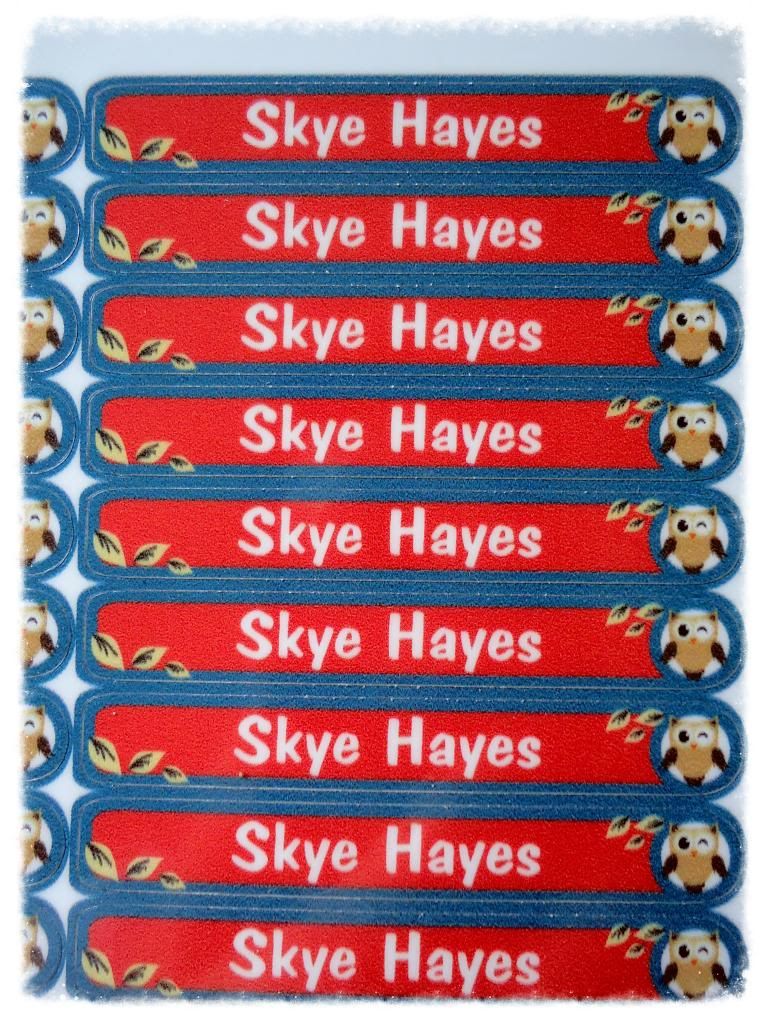 Lovable Labels was kind enough to offer Miss Frugal Mommy's fans a coupon code for $5 off any purchase of $25 or more (before taxes and shipping.)
Coupon code is valid until June 30th, 2013
Please use coupon code CAMP1304 at checkout.
Visit the Lovable Labels today to view all of the amazing products they have to offer!
You can also follow them on Facebook, Twitter, Pinterest, and YouTube!

I received one or more of the products mentioned above for free using Tomoson.com. Regardless, I only recommend products or services I use personally and believe will be good for my readers.