Celebrating Goosebumps 2 With Gummy Bear Snacks
This shop has been compensated by Collective Bias, Inc. and its advertiser. All opinions are mine alone. #CollectiveBias #NewMovieNightTraditions
The kids and I really enjoy going to the movies at our local theater, however with three kids this can be quite a costly adventure after paying admission and getting everyone snacks. We typically spend around $100 when we go to the movies and I have decided to find ways to enjoy movie time at a fraction of this cost! The kids had been counting down the days until the much anticipated Goosebumps 2 movie came out and I figured… what better time than now to challenge myself to creating a fun movie night at home? The previews for the movie showed a scene where gummy bears were attacking the kids, and I was suddenly flooding with ideas to incorporate this into our movie night!Hover over the photo below to shop for Goosebumps 2 at Walmart!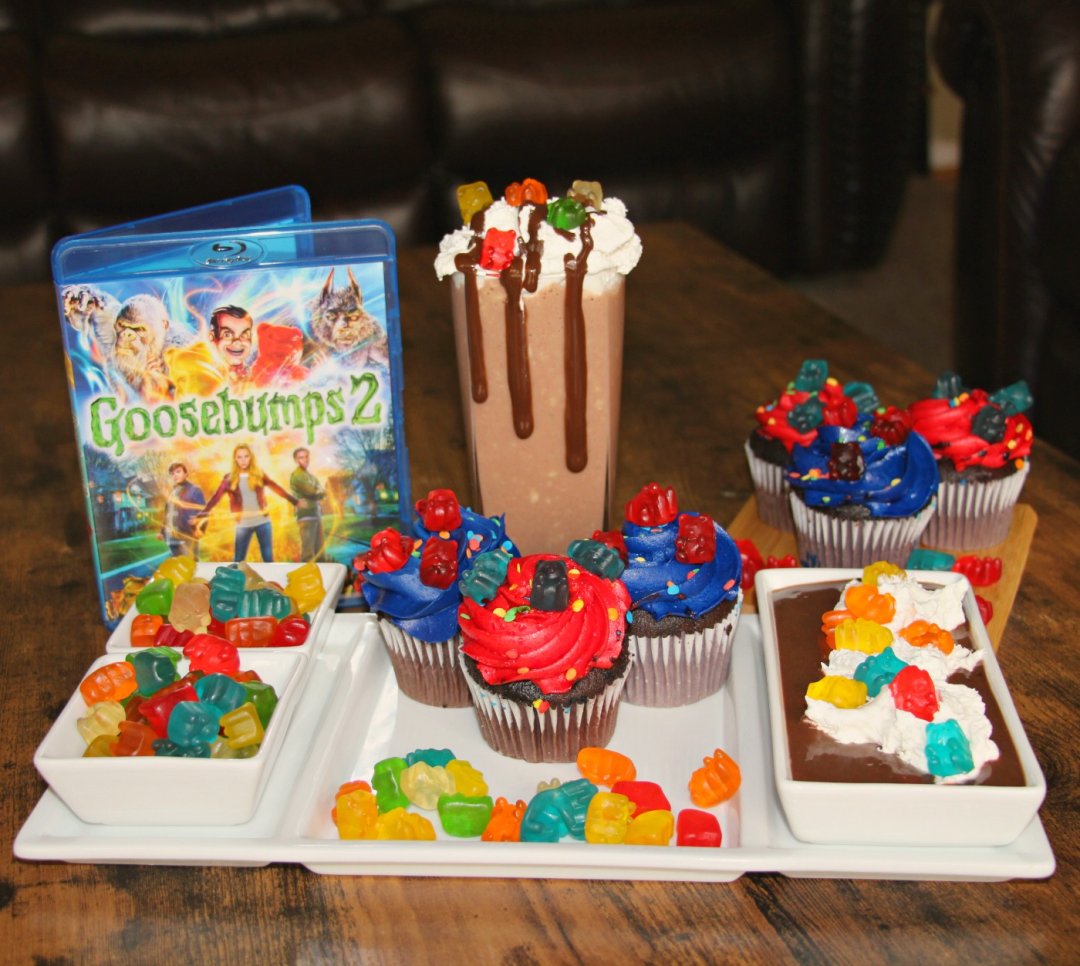 Here is everything you are going to need to create the ultimate Goosebumps 2 gummy bear movie night:
3 packs of gummy bears
Premade cupcakes
Chocolate pudding mix
Milk
Whipped cream
Chocolate ice cream
Chocolate syrup
Goosebumps 2 (the movie)
I tried to make all of these treats as simple and affordable as possible. Plus I wanted the kids to be able to participate in the customization of the treats! Fill a few small dishes with gummy bears to the kids can top their treats with the amount they prefer.
The first treat on the list is the chocolate pudding! We simple made this with boxed pudding and allowed it to chill for a few hours in the refrigerator. We then topped with whipped cream and gummy bears! This was probably my favorite of all the treats and I found that dipping the gummy bears in the pudding was super delicious!
The second treat is the homemade milkshakes! You are going to take three hearty scoops of chocolate ice cream and add two ounces of milk and mix in a blender. Do not add any ice as it will just water it down. If you like your milkshakes thinner, just add more milk! Once you pour your milkshakes into a cup, top with whipped cream and gummy bears!
The easiest of the treats would be the cupcakes of course! I opted to purchase the cupcakes premade from our Walmart store's bakery department. The goal was to spend as much time together as a family on movie night, and I didn't want to be stuck in the kitchen cleaning up homemade cupcake mess! The kids topped their cupcakes with their favorite flavor of gummy bears and enjoyed those most of all!
Your final step for creating this movie night is picking up with Goosebumps 2 movie! This will be available in a Blu-ray, DVD and Digital Combo Pack at your local Walmart, this is also where you can pick up the Walmart Exclusive Goosebumps 1 and Goosebumps 2 movie collection on Blu-ray if you feel like enjoying both movies!
If you loved the first one… you are really going to be impressed with Goosebumps 2! This movie is the second installment of R.L. Stine's beloved books series that we all know and love. I was over the moon to see that Jack Black was starring in this one as well, as his performance was amazing in the first one! If you are into the extras, you will find bonus features that include a gag reel full of hilarious hijinks, three all-new deleted scenes and five featurettes. This is a movie that both kids and parents will love, which makes it the perfect choice for family movie night!
When we finally get to the much anticipated gummy bear scene in Goosebumps 2, this make our treats even more special! This is truly one of the highlights of the movie and the kids were laughing uncontrollably when the gummy bears turned out to be not so friendly. The characters in the movie have to fight with the gummy bears and it resulted in a lot of giggles from my kids!
I hope you enjoyed this post and that it has inspired you to be frugal this year when it comes to family time! Family movie night does not have to expensive and complicated, just get creative! Let us know in the comment section below if you plan on having a family movie night featuring Goosebumps 2 and which of these gummy treats you plan on trying out!