Boba Carrier 4G Giveaway
This blog was not compensated in anyway for this post.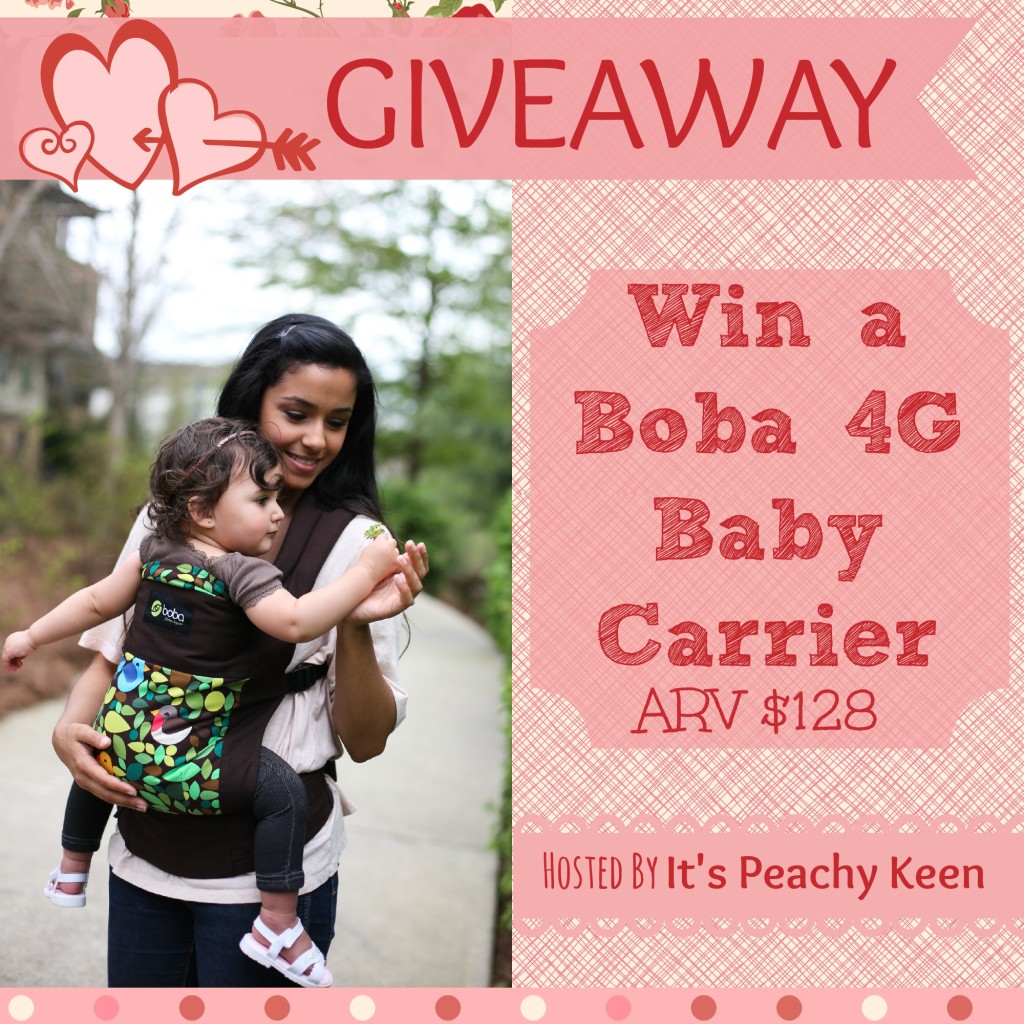 I love the New Boba 4G carries! They are amazing. I love the little insert already in it. My son as a preemie and fit perfectly in it and was comfortable. It is also a life saver! When he doesn't wanna be put down, I throw my carrier on and do my daily chores. It's comfortable for me and baby. It is also wonderful how active I can be outside with my older children while out doors. I love it.
Boba is a company that produces top-of-the-line baby carriers and wraps. Started by a couple traveling the world with their two children, Boba has become an award-winning option for parents looking to wear their children.
Baby wearing has been around for centuries, but we have been learning more than ever about the benefits. For instance: Did you know that babies who are carried cry 43% less than babies who are not carried? Did you know that they sleep better, learn faster and are overall healthier than their non-worn peers?
The Boba Carrier 4G is unique for its ability to be used all throughout infancy, the early childhood years. It can be safely used from 7-45 lbs! To put that in perspective, most 5 year olds are around 45 pounds! Also, for you moms and dads who are a bit shorter or taller, this carrier comfortably fits heights from 5′, all the way to 6'3″. Wow!
You can use the Boba in a front carry, back carry, even while breastfeeding! Some of the unique features of the Boba include: a purse strap, footstraps, a hood, pockets(!), an infant insert, and the body of the carrier comes up 2-3″ higher than most other carriers.
Looking for something even more versatile? Boba has something for that too! The Boba Wrap is a super affordable option at only $38. The wrap is perfect for newborns, up to children 18 months old. With many of the same benefits of the Boba 4G, this wrap comes in 8 different colors, so there is something that everyone can find to love.
GIVEAWAY
Sponsored By Boba /Hosted By It's Peachy Keen/co-hosted by Motherhood Community
You can win a Boba 4G carrier for yourself! You can choose the design even!! Open to U.S. Residents only. 18 and older. Ends February 15 midnight EST. Winner will have 24 hours to respond or another winner will be chosen. Check back at It's Peachy Keen for the winner to be announced. Any questions regarding this giveaway or any other giveaway hosted by me. Email me at Itspeachykeen(at)live.com