BabyBjorn Bouncer Giveaway
*May contain affiliate link.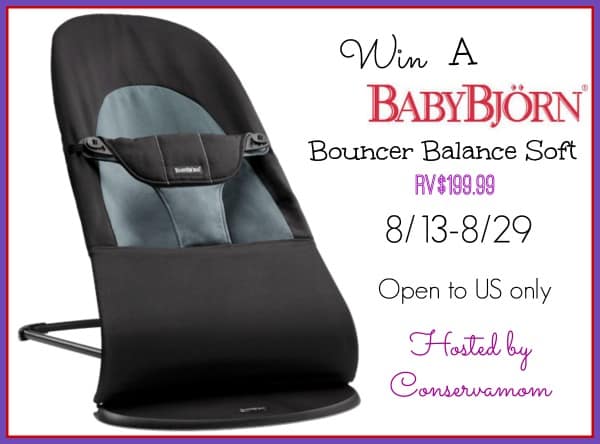 Welcome to the BABYBJÖRN's Bouncer Balance Soft Giveaway
Hosted by Conservamom
Are you looking for a baby bouncer? The ergonomic Bouncer Balance Soft is a modernized version of the classic 1960s bouncer featuring soft fabrics and rounded edges. As expectant parents prepare for baby, they're bombarded with endless options of baby bouncers, swings, rockers and gliders – all designed to make it easy to keep baby moving. But why is motion so important to babies? How does motion impact a baby's development, and why is gentle movement one of the most reliable solutions to soothing a fussy little one?
Importance of Motion for babies
The Vestibular System
The science behind babies' love for bouncing begins with the vestibular system, the complex path of chambers that make up the inner ear, responsible for sensing movement. According to neuroscientist Lise Eliot, Ph.D., author of Early Intelligence: How the Brain and Mind Develop in the First Years of Life, by the time a baby is born, her vestibular system is fully developed and she's already used it to sense her position in the womb. At six months of age, the vestibular system has reached peak sensitivity as babies become more skilled in initiating motor skills on their own. Research suggests that vestibular stimulation as a method to soothe fussiness is more effective than other techniques, including a parent's voice or touch.
Movement and Baby's Development
Based on findings of a research study conducted in the 1970's, the relationship between motor development and vestibular stimulation is believed to be strong. In the study, researchers evaluated the motor skills of babies who received mild stimulation and those who did not. The results showed that infants who received the stimulation saw advanced motor skills and reflex development compared to the infants who did not.
Methods of Motion
Nothing can soothe a baby quite like a parent's loving arms, but when holding your little one isn't possible, a bouncing seat can serve as a comforting alternative. Look for bouncers like BABYBJÖRN's Bouncer Balance Soft, which can grow with your child from infancy to toddlerhood. This bouncer offers a safe and secure place for baby to play, rest and sleep—without the need for batteries. Bouncers like the Bouncer Balance Soft encourage a baby's interaction with vestibular stimulation by rocking in response to his or her own movements. Avoiding bouncers that rely on battery-powered stimulation will eliminate the risk of a baby developing a dependency on movement for sleep.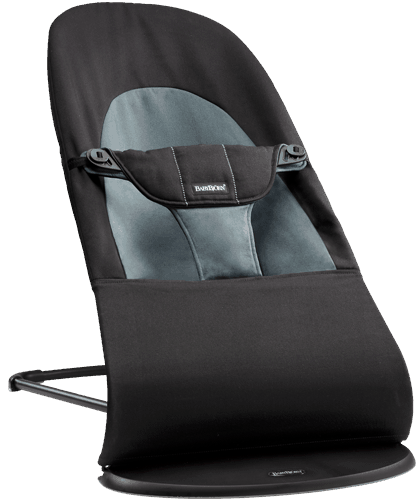 Bouncing for Brain Health
Most new parents quickly learn the importance of movement as a way to soothe their newborn baby, though many are unaware of the neurological and developmental benefits that can result. Understanding how vestibular stimulation aids in a child's developing brain can help caregivers take a proactive approach in baby's development while soothing her at the same time.
Ready to get a gorgeous Baby Bjorn Bouncer for your precious little one? You can purchase one at leading retailers or online at Amazon.
About BABYBJÖRN AB
Since 1961, BABYBJÖRN, a family-owned Swedish company, has manufactured high quality, innovative products for infants and toddlers. Best known as makers of baby carriers, BABYBJÖRN has more than 20 products in its portfolio. All BABYBJÖRN products are designed and tested in Sweden. The company works extensively to eliminate substances that are hazardous to health or the environment in the materials used in manufacturing BABYBJÖRN products.
Available in 50 countries, BABYBJÖRN is a preferred brand with parents around the world. Their award-winning Swedish product designs guarantee safety, quality and style. BABYBJÖRN is headquartered in Solna, Sweden, just outside Stockholm. BabySwede LLC is the exclusive distributor of all BABYBJÖRN products in the United States and Canada.
The fantastic people at Baby Bjorn will give one lucky winner the opportunity to own this gorgeous bouncer! This giveaway is open to US only and ends on 8/29 at 11:59pm. So head below for your chance to win!
Disclosure: This giveaway is in no way associated with, sponsored, administered, or endorsed by Facebook, Twitter, Google, Pinterest or any other social media network.All opinions and experiences are Conservamoms. Open to US& must be 18+. Confirmed Winner(s) will be contacted by email and have 48 hours to respond before a new winner will be drawn. No purchase necessary. Void where prohibited by law. The sponsor will be responsible for product shipment to winner(s) of the giveaway.
Conservamom
will not be responsible for prize fulfillment. The disclosure is done in accordance with the Federal Trade Commission 10 CFR, Part 255 Guides Concerning the use of Endorsements and Testimonials in Advertising. For questions or to see your product featured in an Event you can contact Elia At
Conservamom