Back To School Shopping at Aeropostale
This post is sponsored by Sivan Social. All comments and opinions are my own.
We are into our second week of school for my high schooler and I know many more of you have children that will be heading back to classroom soon! I brought my teenager to the outlet mall in our hometown a few days before school started and we decided to take a peak inside Aeropostale and WOW… the prices were amazing! She scored great deals on so many clothes. The deals were so great, she was able to get everything she needed for her outfits in that one shopping trip at Aeropostale. One of the best deals that they were having was buy one graphic tee, get two free. You can see an example of the graphic tees in the picture that is featured in this blog post.
Times are tough for so many people right now and the last thing a parent should have to worry about it paying way too much on school clothes. I have found five amazing and affordable items and sales at Aeropostale that I would like to share with you in order to help you shop frugally this school year! Don't feel like going into the actual store? Thats OK because you can save 50 – 70% off everything at Aeropostale.com!!
GRAPHIC TEES
As I mentioned previously, there are some jaw dropping sales going on when it comes to their graphic tees! The prices on their website is incredible and you can find dozens of them listed for under $10! I love these shirts because there are so many options and your kid is bound to find one that fits their preferance and style.
FULL-ZIP HOODIE
Never too early to start thinking about the cooler weather and I always find that it's best to get those sweaters and hoodies right now while the back to school prices are still hot. The infamous zip-up hoodies from aeropostale are the perfect thickness and comfort for your kid… not to mention stylish! You can score this hoodie for only $20!
SERIOUSLY STRETCHY LOW-RISE JEGGING
Jeans are always my least favorite clothing item to shop for when it comes to kids. I went into some stores with my teans and the wanted $40 and up for jeans… I just can't bring myself to spend that much money when I know my kids is going to outgrow them in a few short months. I was so thrilled to discover that aeropostale had some affordable options and I found these (school dress code appropriate) jeggings for under $20… you can not beat that price!
FRAGRANCE MIST
I am not sure about your teen, but this is always on the must have list for my high schooler! Other places can charge quite a bit for fragrance mist, so I was happy to discover that aeropostale was selling ful size bottles for only $8 each! Their fragrances are actually really great and my daughter found several that she loved. Again… you just can not beat the price!
FACE COVERINGS
No matter your opinion on the whole face mask issue, many schools (including my daughter's) are really pushing for the kids to wear those masks! Aeropostale is selling two packs of face masks in different colors and patterns for only $8. As a mother that has already had a child in school wearing a mask for almost two weeks… I highly reccommend purchasing multiples so that you aren't having to keep up with washing them every single night. It's always nice to have backups if you don't get around to washing them.
I hope that this list was helpful to you and that you were able to score some really good deals. Good luck to all the families out there with children going back to school!
GIVEAWAY TIME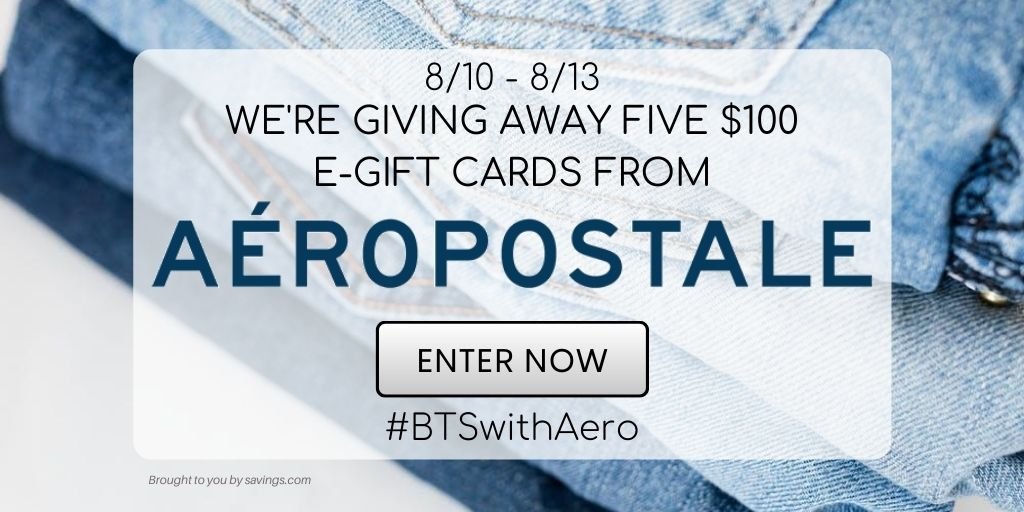 Savings.com is giving away five $100 e-gift cards from Aeropostale! Monday, August 10th at 12:00 AM PT to Thursday, August 13th at 11:59 PM PT. Five (5) winners will receive a $100 e-gift card from Aeropostale. The winners will be chosen through a lottery drawing and notified on Friday, August 14th via the email address they used to enter. See complete Official Rules for entry instructions, full prize descriptions, restrictions and other important details.