Baby Soft Skin All Winter Long With BabySpa USA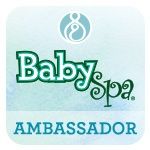 I am a proud BabySpa USA ambassador! I receive free products to facilitate my reviews. All thoughts and opinions expressed in my review are honest and 100% my own.
About BabySpa USA
We are a natural bath and body care collection for newborns through preschoolers made with special ethnobotanical blends that provide lasting hydration, soothing effects and sweet, comforting sensations.
Winter is quickly approaching and the cool air has out grabbing our fleeces and hats before heading out the door. Since my baby was born in the summer, her skin has only been exposed to warm, moist air. We are a family that suffers through eczema during harsh winters and I am always looking for ways to prevent it before it gets too severe. The last thing I want is for my precious new baby to have dry and irritated skin this winter, I want to make sure she can maintain that baby soft skin all winter long. That is why I will be keeping some of my favorite BabySpa USA products on hand!
The Soothing Face Cream is a gentle, light and non greasy lotion that contains a delightful mixture of Pomegranate, Honey,Jojoba and Evening Primrose Oils. One of the major ingredients in this face cream provides your child with a boost of SPF, helping to support their skin's natural defense mechanisms against harmful environmental factors. So there is no need to worry about the crisp winter air causing your baby's face to get chapped, rosy red or irritated! I just love how quickly this absorbs and doesn't leave behind a greasy feeling. My baby girl just loves when I massage it into her adorable, chunky cheeks… I could just kiss them all day long, hehe!
Baby massages are a great way to not only bond with your baby, but I wonderful way to help to sooth your baby… in fact some studies have shown that it increases crying and fussiness. A baby message is also a safe and natural way to help your baby with their digestive tract and alleviate symptoms from constipation and colic. You are also stimulating their central nervous system, which sets off a chain reaction: It makes your baby's brain produce more serotonin and as a result, your baby's heart rate and breathing slow down, and she becomes more relaxed. Can you believe something as simple as giving your baby a full body message can have so many amazing benefits? The BabySpa USA moisturizing body lotion is the perfect product to use with your baby for a message. It has a very delightful aroma, however not strong or overpowering. The lotion is easily absorbed and does not leave behind a greasy, unpleasant feeling. So not only is your baby reaping all the great benefits of a massage, but their skin is also being protected by the harsh winter elements.
We are off to a great start this winter with these fantastic duo of BabySpa USA products and I my baby girl is so happy with all of the baby massages she has been receiving lately. Her skin is as baby soft as they day I welcomed her into this world and I am so thankful for a great line of products that allows me to help her maintain that!
Connect With BabySpa USA



*Website*Facebook*Twitter*Pinterest*YouTube*