MyOwnLittleStory: Online Baby Book Review
Product Description (direct from website)
The ONLY online baby book with email reminders! Our exclusive Milestone Memory System is a free service that tracks your child's age and reminds you, via email, to record the special stories of your child's life. Don't let those memories slip away!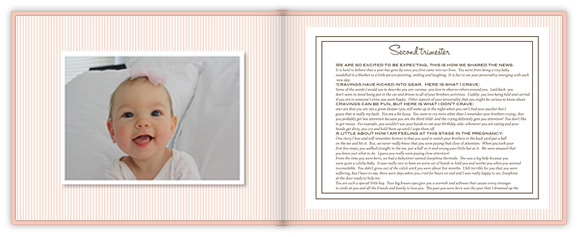 My Review
I remember how much enjoyment came from each and every milestone with my daughter and my immediate instinct to grab the baby book and write it all down. I have pages of extra notes dedicated to every adorable coo and gesture she made. Then of course comes baby number two and you can barely remember where you placed the baby book! I must admit that I have an extreme amount of guilt for not committing to filling out my son's baby book as tentatively as my daughter's. Major milestone's made the book, but between helping an older sibling adjust and battling sleep deprivation, I was constantly forgetting to write in the baby book. What is a mother to do? Well I have recently discovered a website that has resolved this problem with an amazing solution!
MyOwnLittleStory is an online baby book website that allows you to create your book over a two year time span. They will send you emails, twice a month, and provide you with resources to write about your child's milestones. If you are pressed for time, simply ask for an email reminder so you may add those precious details at a less busier time. You can customize your child's baby book by uploading pictures and choosing your favorite templates. I know that I left many areas blank on my children's baby books, as some of the things didn't pertain to them. MyOwnLittleStory will skip those blank questions when it comes time to print your book, leaving no spot bare! Most importantly, this service is completely free to you until your child turns two. You will then have the opportunity to order a beautiful book full of precious memories! How amazingly simple does that seem?
You can also share your baby book pages on facebook! Keep family and friends up to date on all of your child's newest milestones!
Visit MyOwnLittleStory today and start recording your memories !
You can also follow along on Facebook & Twitter!
Disclosure of Material Connection: I received one or more of the products or services mentioned above for free in hope that I would mention it on my blog. Regardless, I only recommend products or services I use personally and believe will be good for my readers. I am disclosing this in accordance with the Federal Trade Commission's 16 CFR, Part 255: "Guides Concerning the Use of Endorsements and Testimonials in Advertising."