Caring For My Newborn With BabySpa Products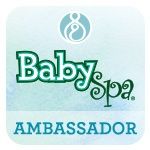 I am a proud BabySpa USA ambassador! I receive free products to facilitate my reviews. All thoughts and opinions expressed in my review are honest and 100% my own.
About BabySpa USA
We are a natural bath and body care collection for newborns through preschoolers made with special ethnobotanical blends that provide lasting hydration, soothing effects and sweet, comforting sensations.
Products Reviewed
Calming Eczema Relief Cream: Intensively soothing and hydrating, our Calming Eczema Relief Cream provides immediate comfort to eczema-prone baby skin. Specially formulated with Colloidal Oatmeal, our skin-conditioning blend helps to protect and relieve dry & itchy patches. Vitamin-rich oils of Jojoba and Calendula are combined with Shea Butter, Aloe, and Chamomile to naturally soothe irritated skin for a calming and refreshing feel. Our ultra-mild and fragrance-free formula also contains a Botanical Allantoin extract, to nourish sensitive skin and provide a healthy, supple feel.
Calming Massage Oil: Indulge your toddler's senses and share special bonding experiences with the use of our STAGE TWO Nourishing Massage Oil. Especially formulated with 100% pure vitamin-rich oils, our natural blend will pamper your toddler's delicate skin and leave a healthy natural glow. Exclusive to our formula, ECOCERT® certified Nyamplung Oil provides a boost of SPF to help support the skin's natural defense mechanisms against harmful environmental factors.
Shea Butter Diaper Cream: Inspired by ancient traditions and nurturing spa cultures, our Shea Butter Diaper Cream is formulated with over 30% Shea Butter and 12% Zinc Oxide to create a natural barrier against wetness that protects your baby's bottom from diaper rashes. Patented Swiss bioactive moisturizers will effectively treat redness and irritation to provide an instant soothing relief. Our blend of vitamin-rich emollients and botanicals such as Organic Aloe, Calendula, and Cocoa Butter helps to reduce soreness and discomfort by restoring the health of your baby's skin. BabySpa Shea Butter Diaper Cream is completely free of toxic substances and comes in a light, non-greasy formula that wipes away clean with just one swipe.
My Review
We recently welcomed our beautiful baby girl Adeline into this world, two weeks ago to be exact! While we were at the hospital just a day after her birth, a nurse mentioned to me that it would probably be a good idea to get some diaper rash cream on her when we brought her home, as she was beginning to get a bit red and irritated. Lucky for my new bundle of joy, I had packed the fabulous Shea Butter Diaper Cream in my diaper bag and began using it that day. I have continued to use it each day since she was born and Adeline has not had any issues with diaper rash. A newborn's skin is so incredibly sensitive during the first few months and I was thrilled to have had the opportunity to provide her with such a natural and safe diaper cream. She has been excellent when it comes to nursing, which means a lot of diaper changes these past few weeks. The Shea Butter Diaper Cream has been very effective in preventing diaper rash and I could not be more pleased with this product!
Although nursing has been going incredibly well, I also have a very quick let down and baby Adeline can't always keep up. This has resulted in a lot of breast milk getting in her neck, which in turn has caused some skin irritation. I started using the Calming Eczema Relief Cream on her, as her skin was getting very red and irritated. After just using it a handful of times the redness started to calm down and her skin didn't appear as irritated. We also did a few baby massages when her skin started getting dry and peeling, the cream did a fantastic job hydrating her skin and restoring that baby soft feel! The Nourishing Massage Oil was the final step in my mission to give my little one the perfect skin, which worked perfectly. I have always loved giving my children baby massages and the bonding experience is very special to me. I actually prefer using the oil over lotion for baby massages, as the lotion can get cold and upset the baby. Overall this amazing trio of BabySpa products have truly helped me to successfully care for my newborn's skin so that I can worry about other things, such as getting in as much cuddle time as I possibly can with my beautiful baby girl!
Connect With BabySpa USA